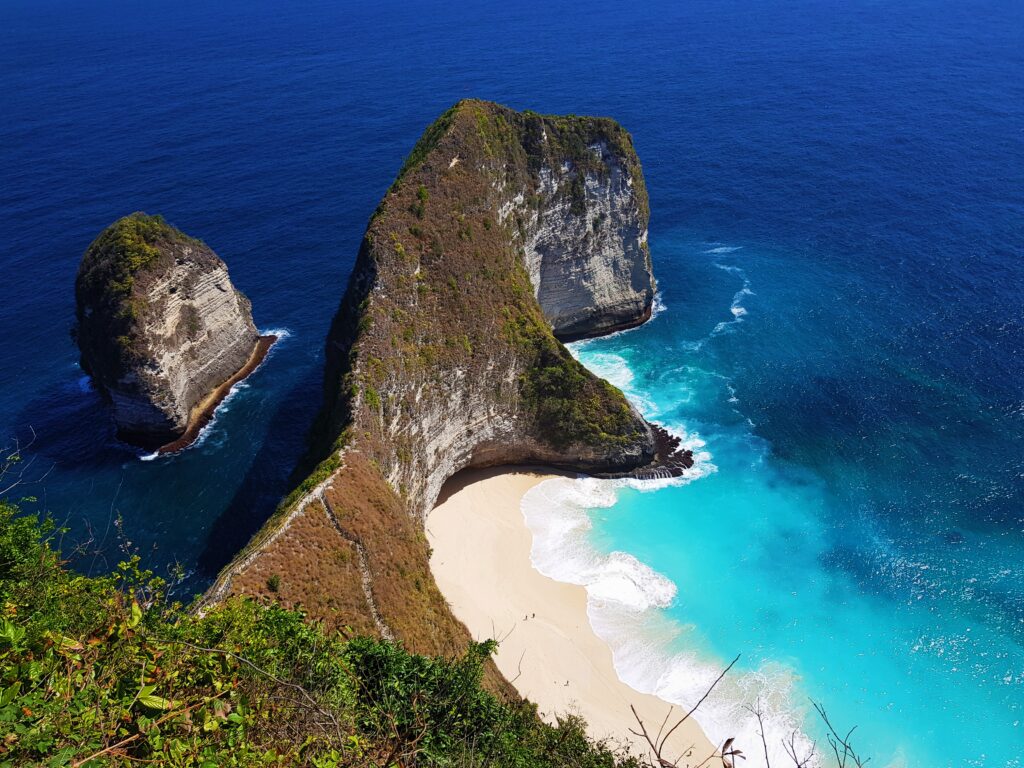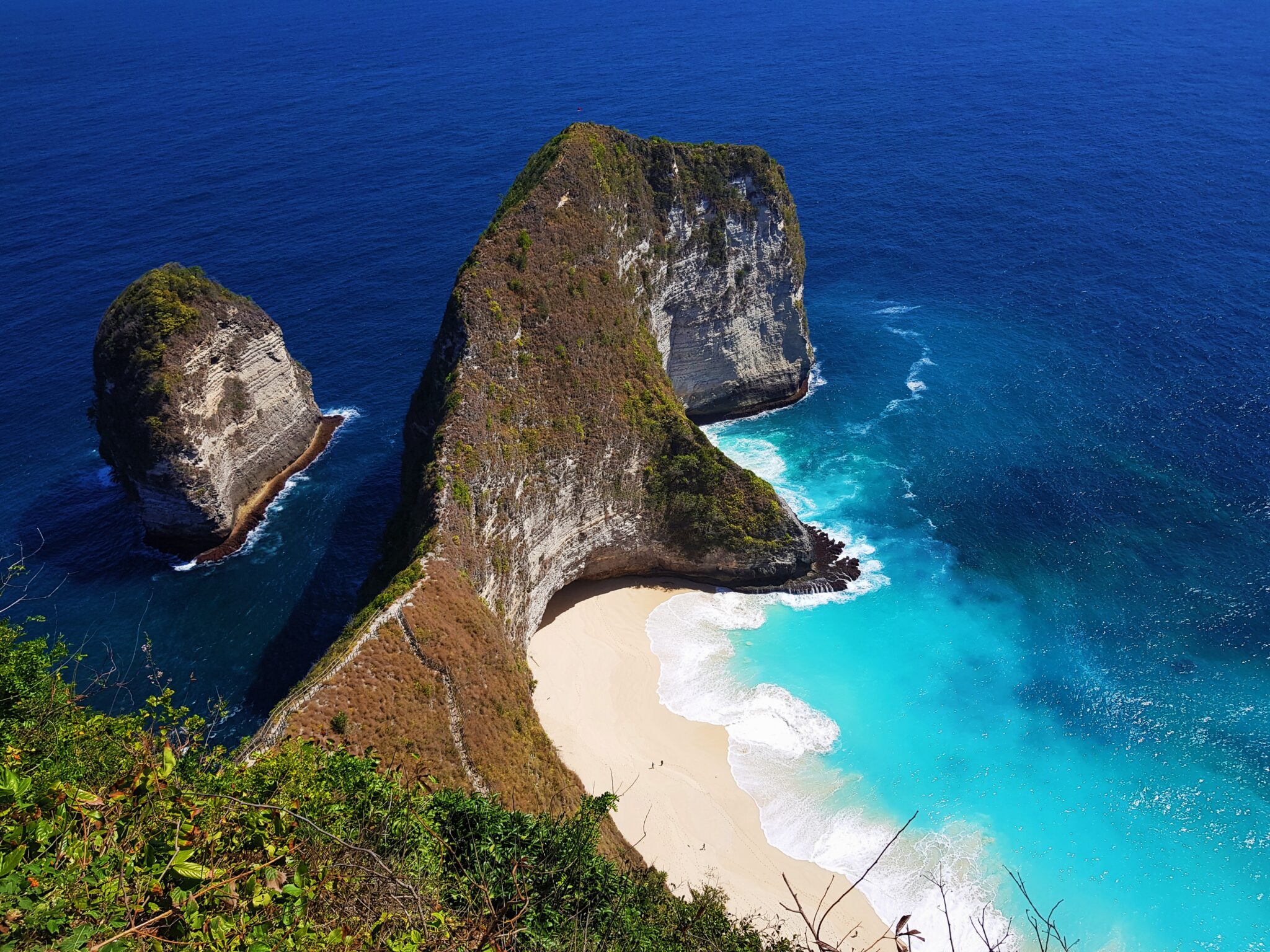 Sie sehen gerade einen Platzhalterinhalt von Standard. Um auf den eigentlichen Inhalt zuzugreifen, klicken Sie auf die Schaltfläche unten. Bitte beachten Sie, dass dabei Daten an Drittanbieter weitergegeben werden.
Mehr Informationen
Where is Nusa Penida located?
The Indonesian island of Nusa Penida is located 25 kilometers southeast of Bali, next to the somewhat smaller islands of Nusa Ceningan and Nusa Lembongan. This location allows tourists to either make a day trip to Nusa Penida from Bali or to plan some more time and explore the island. It is interesting that this island is even less touristy than Bali itself.
Arrival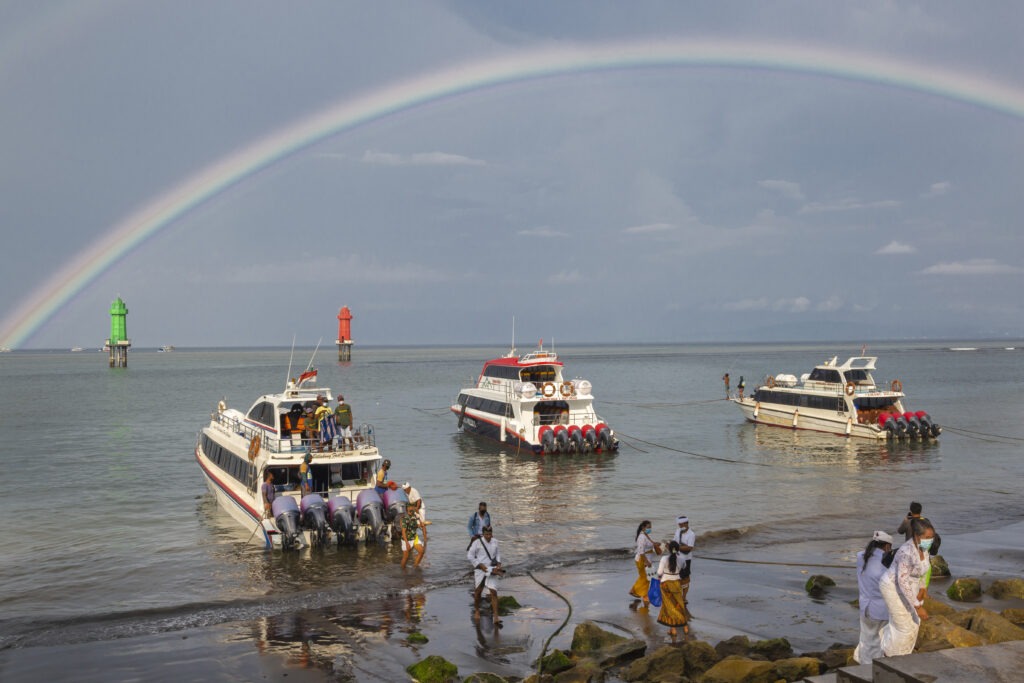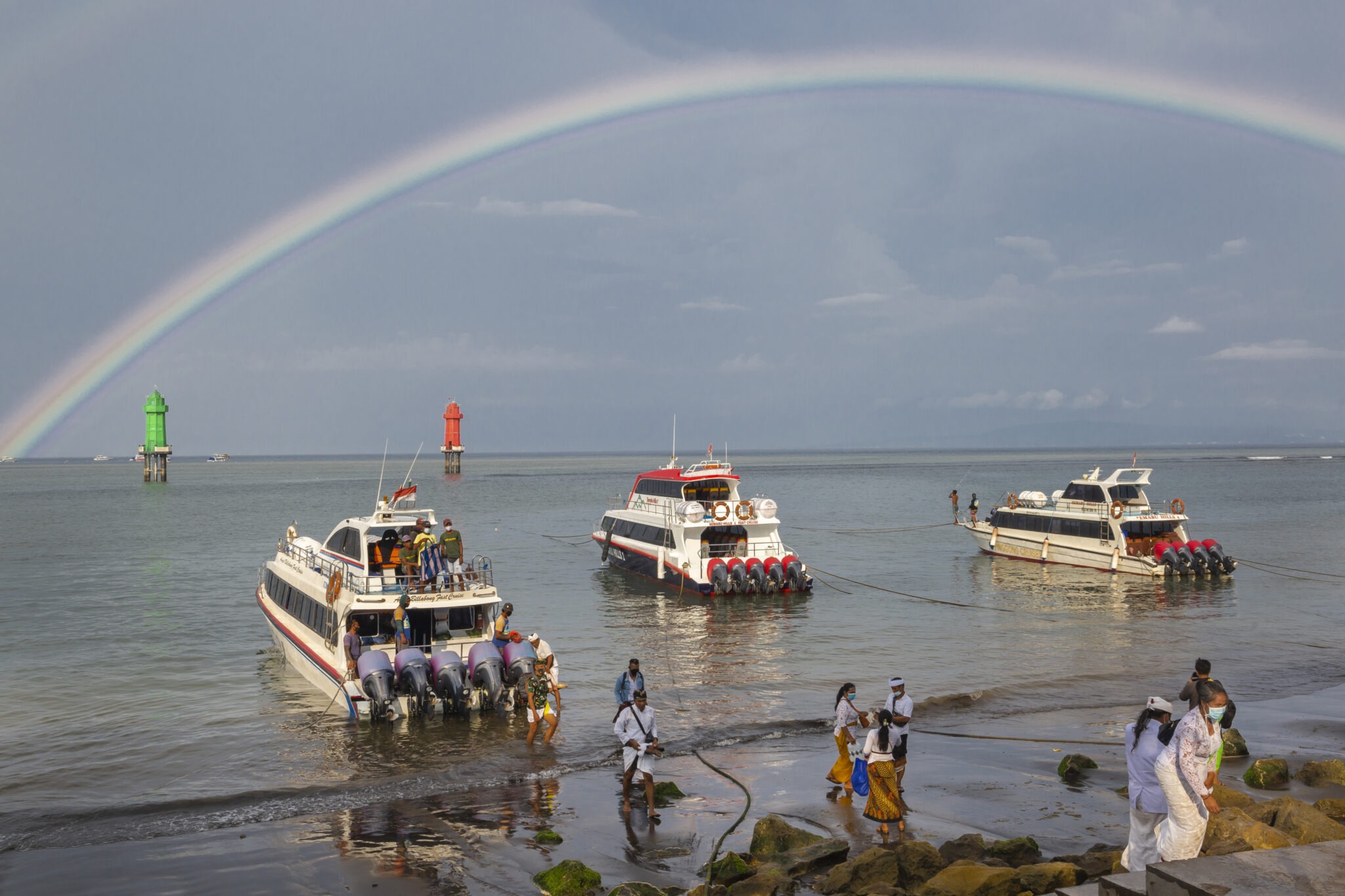 The best way to get there is by speedboat within an hour from Sanur or
Kusamba from. These run daily and there are many providers.
Things to know
Since 2019, there is a tourist fee for entrants of IDR 25 thousand (1.5€) for
Adults and 15 thousand IDR (90ct) for children. This fee applies to the three Nusa
islands and is designed to improve local infrastructures.
As far as money is concerned, it is indispensable to always have enough cash with you,
Card payments are a rarity, as are ATMs.
Security
The island is considered very safe, the inhabitants are a close community and very
inviting. You rarely hear about crime here.
Best time to visit the island
Depending on what you are looking for on vacation, there are different recommendations: The
Rainy season stretches from November to April, mostly raining only at night. The
However, temperatures are high and it is humid, at 32-35 degrees. Here are less
Tourists on site.
From May to August it is cooler, but sunnier. This time is peak season and the
Rush is greater.
The island is beautiful at any time of the year, but if you take the most beautiful photos
would like to make, one can recommend March to May, thus immediately after the rainy season. When
but you simply desire beautiful weather, May to August are recommended.
Transportation within the island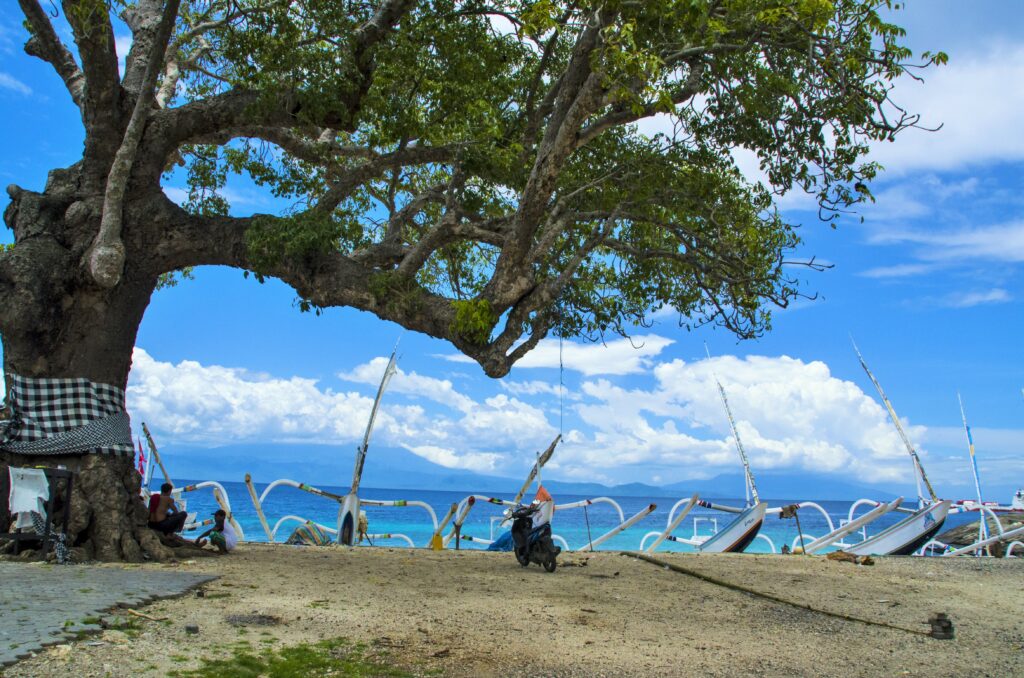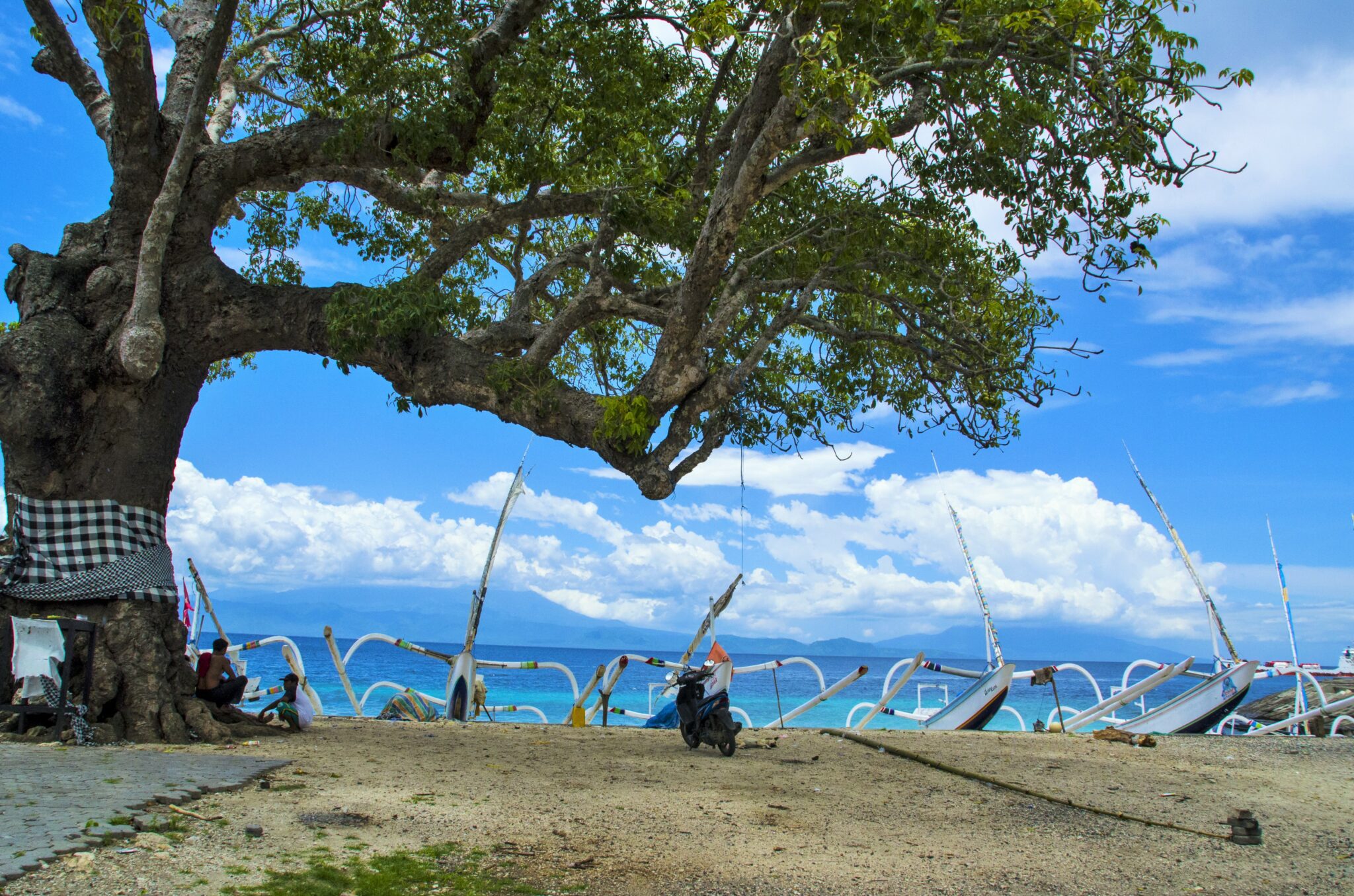 There are two ways to explore this beautiful island:
By scooter: Here the advantage is clearly the cheap price of about 5 US dollars with a filled tank, but the narrow roads can be dangerous and are not suitable for beginners. There are many gas stations in the north, in the south there are rather small overpriced street stores.
Rent a car with a driver: this alternative is a bit more expensive (about 35 US dollars), but safer. However, some roads are so narrow that traffic jams often occur, which is why it is then easier to drive past the jam on a scooter.
What activities are available?
Nusa Penida is known for its beautiful beaches and breathtaking views of the sea. Therefore, activities around the water are predominant, such as visiting beaches, snorkeling and much more.
But many of these highlights are associated with a more or less demanding climb or a longer march. This means that you are on the road all day, sometimes in very hot weather. However, the unspoiled nature and beautiful beaches are worth every effort. It would be beneficial to bring good waterproof backpacks and cell phone cases.
What are absolute highlights / sights?
All along the south coast are hidden sandy beaches and deserted, unspoiled coves with their crystal clear waters and enchanting underwater world. But Nusa Penida is not only known for its blue attractions, it is also a green island full of plants, flowers and palm trees.
Here we present the highlights of the island:
Beautiful views and view points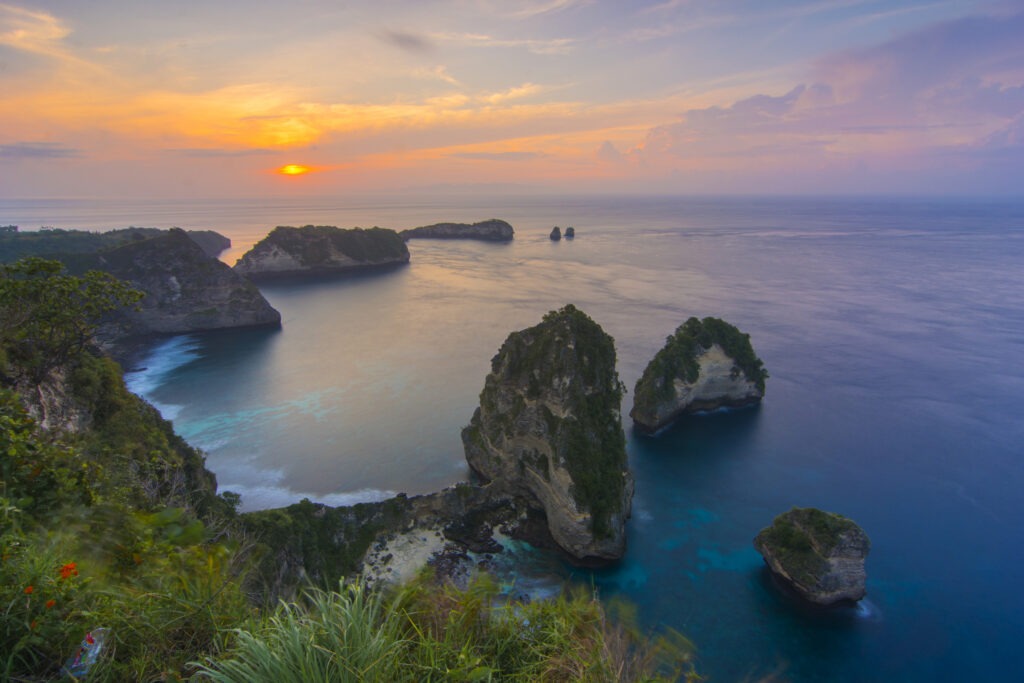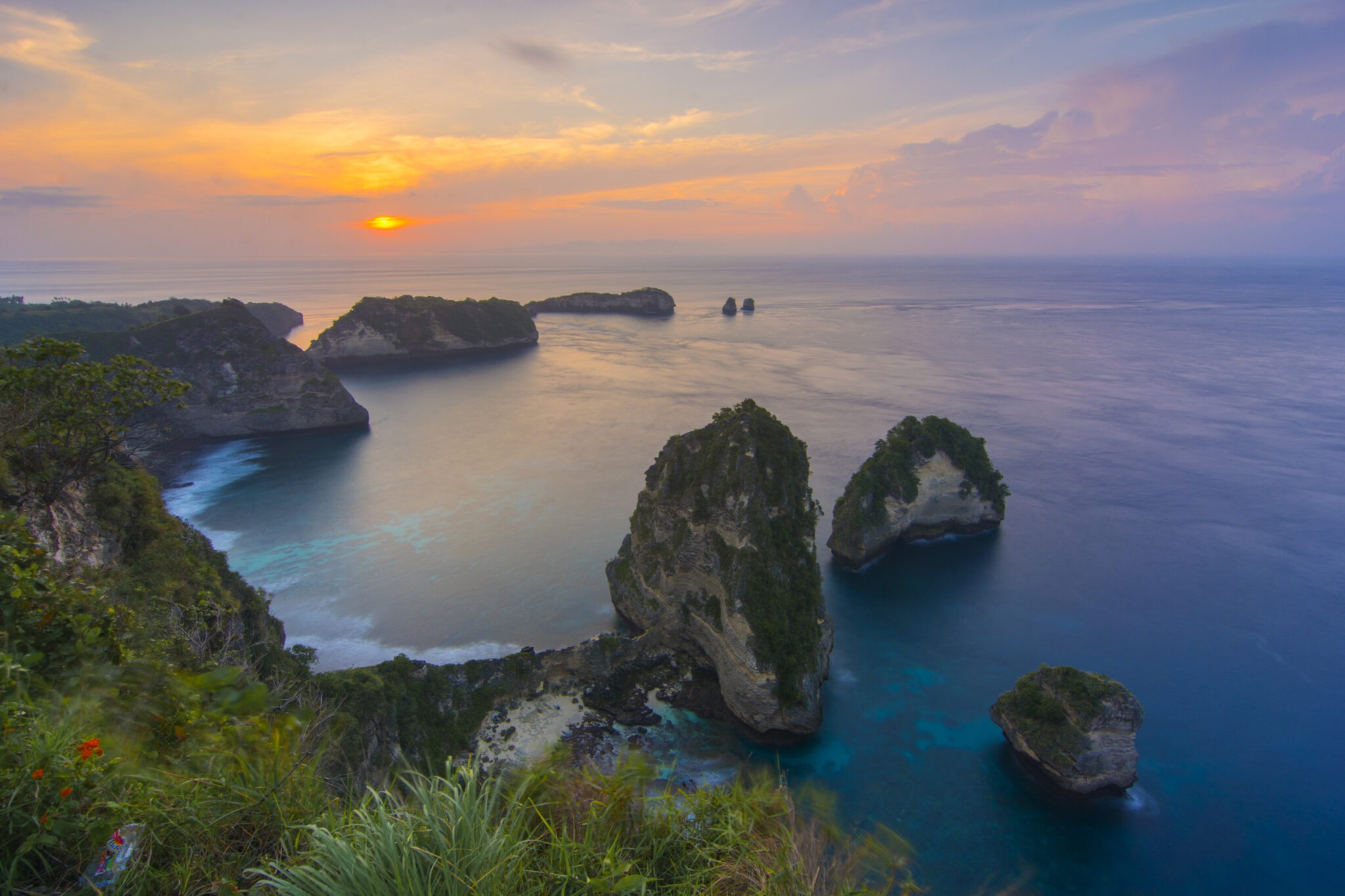 Kelingking Beach is famous for the view of the T-Rex shaped rock that pokes out of the sea and where many tourists gather at the top of the viewpoint. The beach itself is really empty as you have to do a 45-minute climb in the blazing sun, so be sure to wear sturdy shoes. There are no options to buy anything downstairs, so you have to bring your own drinks and snacks.
Banah Sunset/Cliff Point actually consists of half a dozen viewpoints along the cliffs. On each of them you can walk to the top and admire the waves in the depth. From here you can observe manta rays and Banah Rock, a rock in the shape of a donut, which sticks out of the sea.
Waterfall
Peguyangan Waterfall is THE place for thrills. The descent is very steep and demanding. So if you suffer from a fear of heights, don't do it. The path descends about 500 steps along the cliff, with sections so steep that some can even be mastered only in seal. Once down there, however, you won't find a huge waterfall, but a small Hindu temple down by the sea, surrounded by a waterfall. In the temple itself you must wear a sarong, but the nearby natural pool may be entered swimwear.
Beaches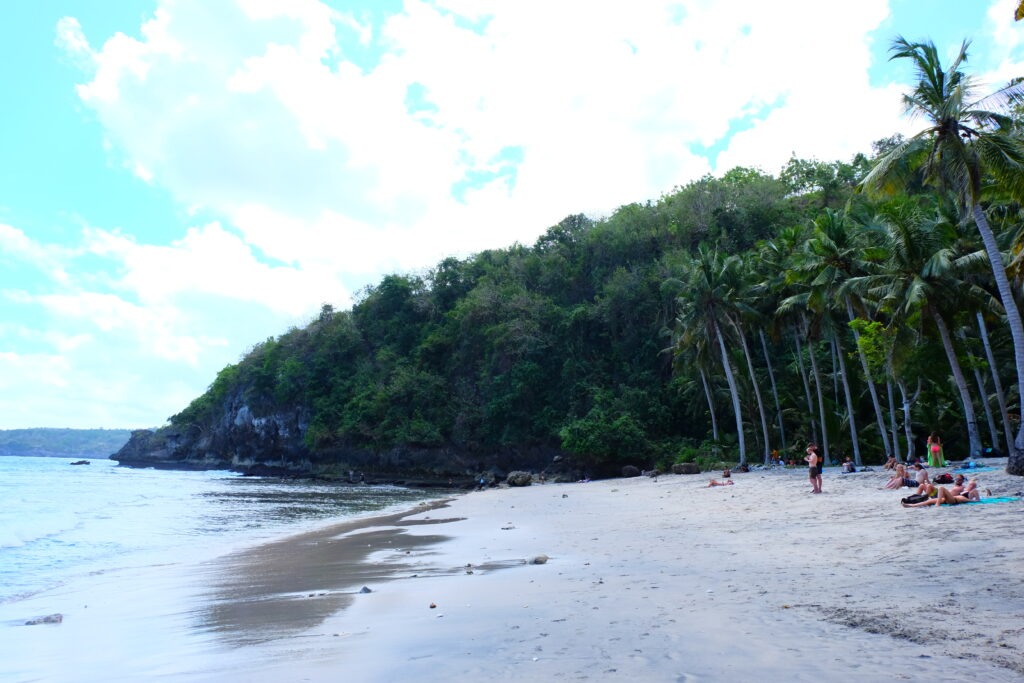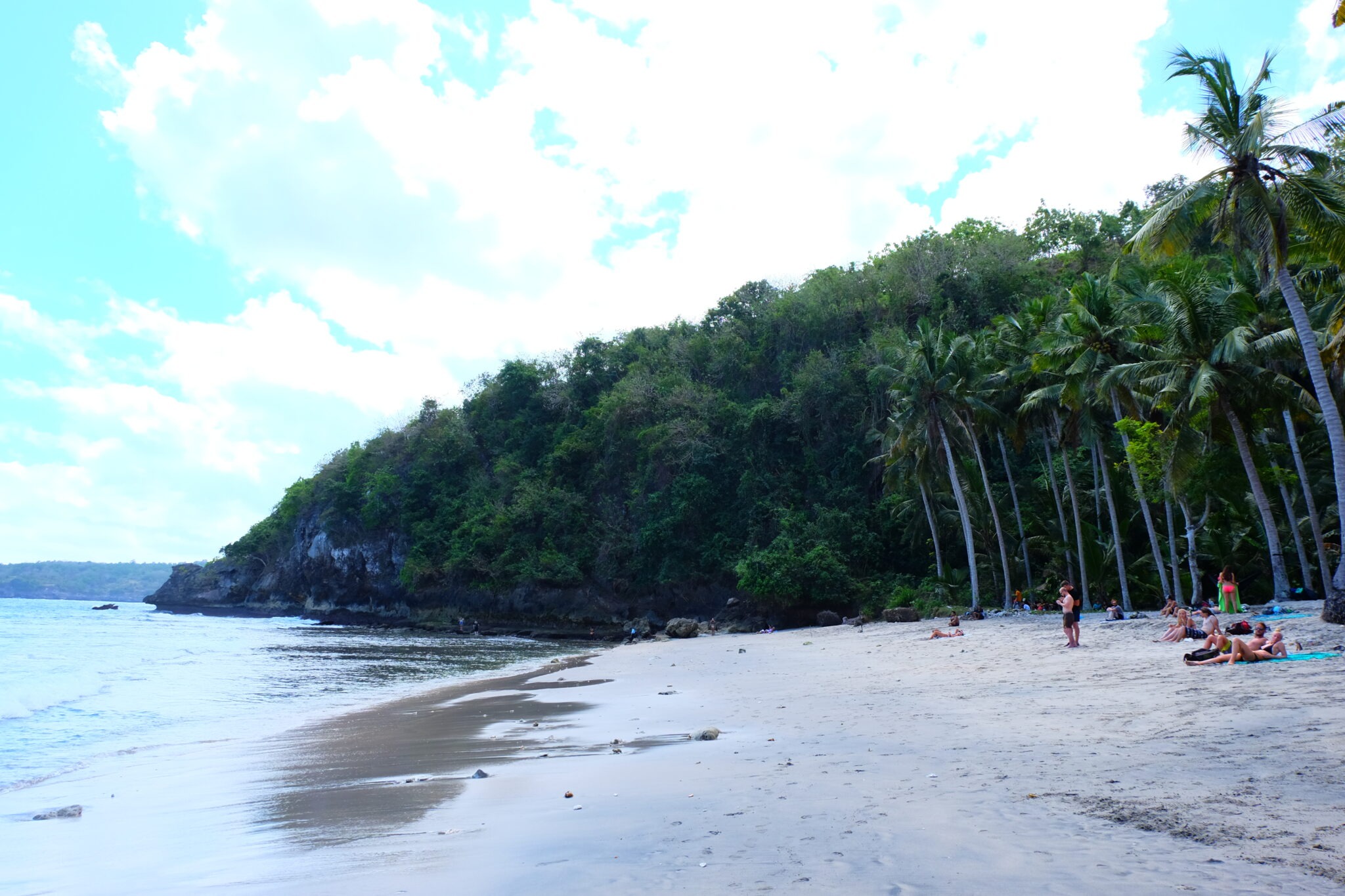 Angels Billabong beach is natural infinity pool right on the cliff edge. Attention: go swimming carefully only at low tide, in no case at high tide.
Broken Bay is characterized by its large round rock hole in the middle of the grass, around which you can walk all the way, but not swim in it. Here it is convenient to relax in the grass at the edge of the hole.
Suwehan Beach is considered a dream beach with its crystal clear turquoise waters and white sand. It is a bit more remote, is barely passable by cars, and requires a 30-minute walk, which explains the few tourists. In the sea a rock stands out, which reminds of a Christmas tree. Attention, however, to the tides.
Atuh Beach at the southern end of Nusa Penida is on the way to Suwehan Beach. Here you also have to climb some steps, but they are in good condition. The entrance fee is about one euro, but this also provides some infrastructures, such as sunbeds and snack stores. From the beach you can admire Atuh Rock, a rock in the sea in the shape of a stiletto.
Crystal Bay: This bay in the west of the island is known for the breathtaking sunset to admire. Whether sunbathing, chilling or snorkeling, this beach can be reached without any steps, which is why there are more tourists than on other beaches. There are sunbeds and snorkeling equipment for rent as well as some stores for refreshments. Attention: there is a strong current at times, so you should not swim out too far.
Nyanyad Beach is an insider tip, as it is unknown, but equally beautiful. It is located in the south of the island and you can reach it after 15 minutes by good stairs. The beach is surrounded by temples and gigantic hills at both ends and offers beautiful white sand.
Other sights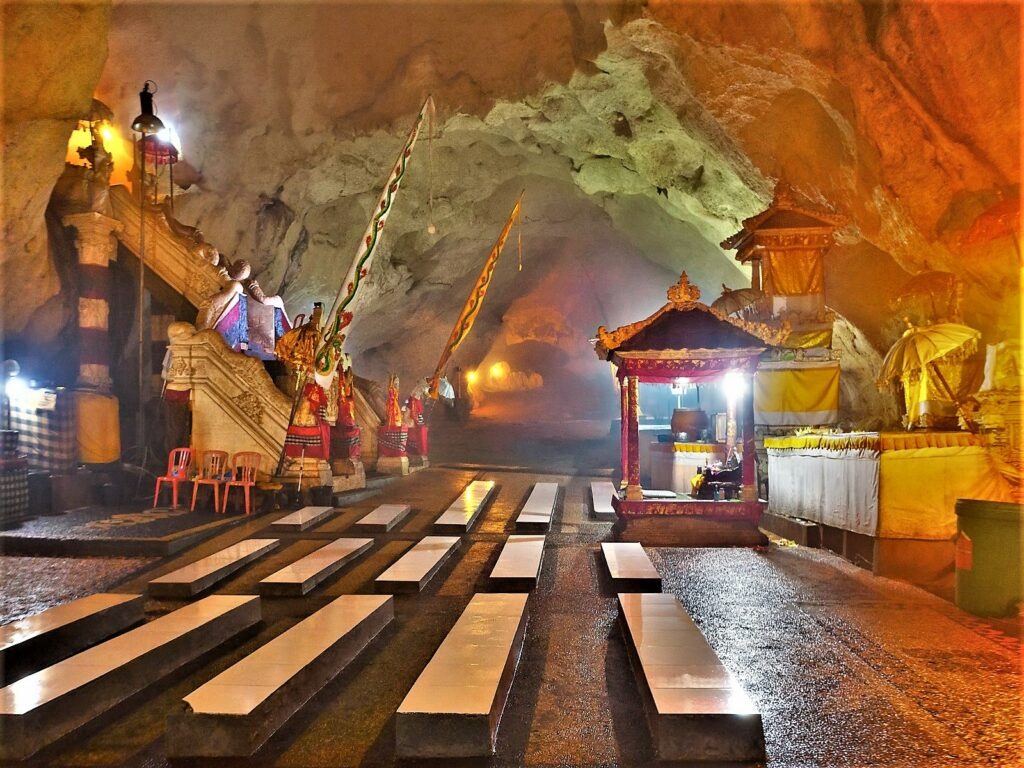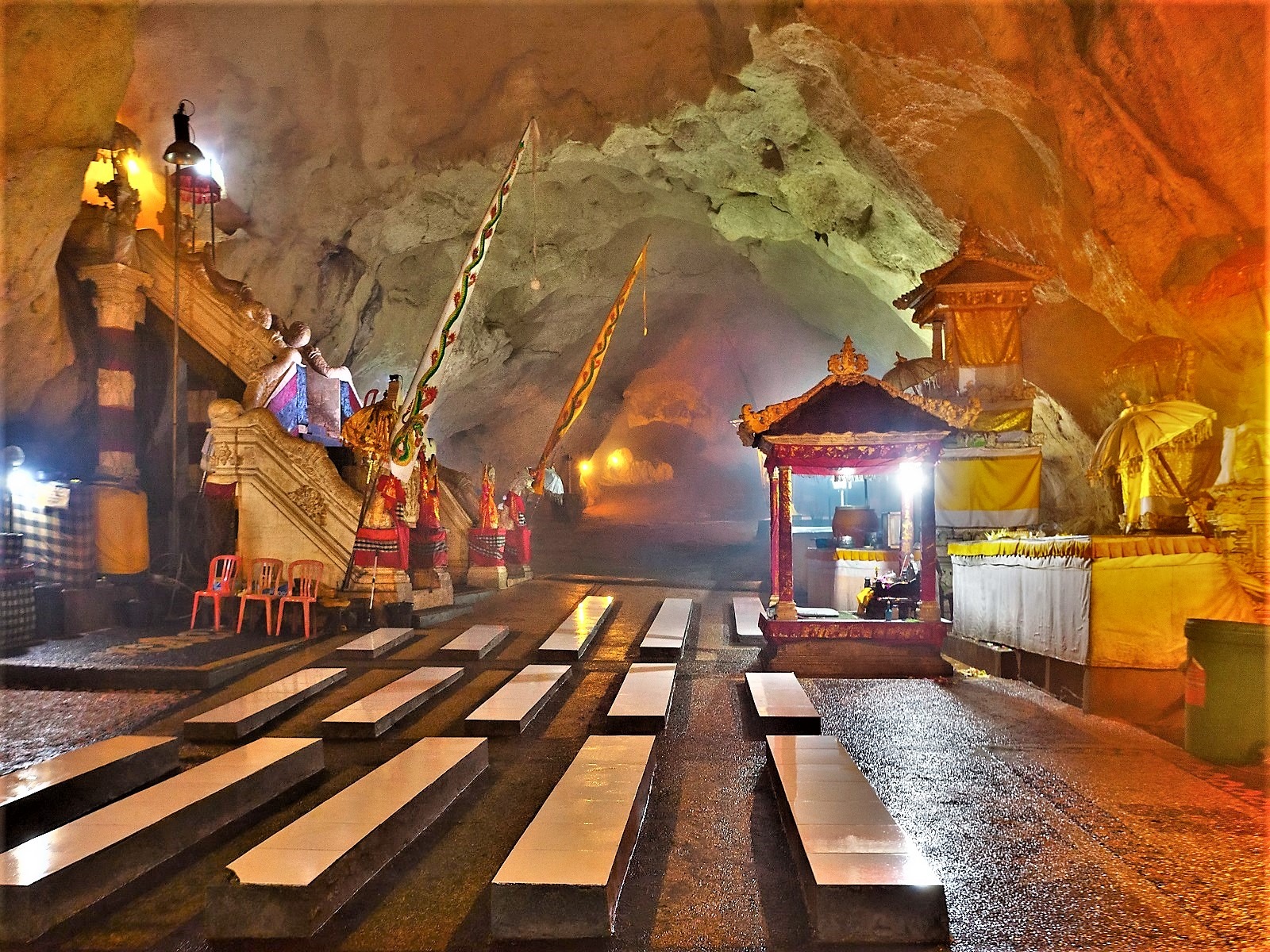 In the Tempeling Forest you can still find untouched jungle. This beautiful nature reserve costs not even one euro entrance fee. You walk down natural stone steps past enchanted trees and even find natural pools for swimming. A beautiful rocky beach awaits at the end.
The temple cave Goa Giri Putri is very fascinating. Through a small rock hole you go down into the large cave. The path is dimly lit and ventilated only in some places, which makes it very stuffy. Once at the bottom, you will find several elements of the Hindu faith and, if you are lucky, you may witness a ceremony. In the center of the temple is the highlight, a staircase that leads up on two sides and can only be entered barefoot. At the exit of the cave some wild monkeys are waiting, so watch out for your cell phone and camera.
The Teletubbie Hills are located in the center of the island and got their name from the popular children's television series. If you visit them during or right after the rainy season, they captivate you with their lush green.
Local features
The local cuisine offers plenty of delicious food, the best place for this is the Night Market on Jalan Ped Buyuk, which takes place every evening from 6pm-2pm.
At Atuh Beach there are also many opportunities in the small warungs to grab a local lunch. A special one is Warung Nengah Mesin, where the mother still cooks and thus perfect local food is served.
Who is Nusa Penida suitable for?
This question depends on what you want to do. If you want to climb down some beaches, you have to be rather adventurous and this is not suitable for small children in that case. On the other hand, there are also enough beaches that are accessible by normal stairs.
Special accommodation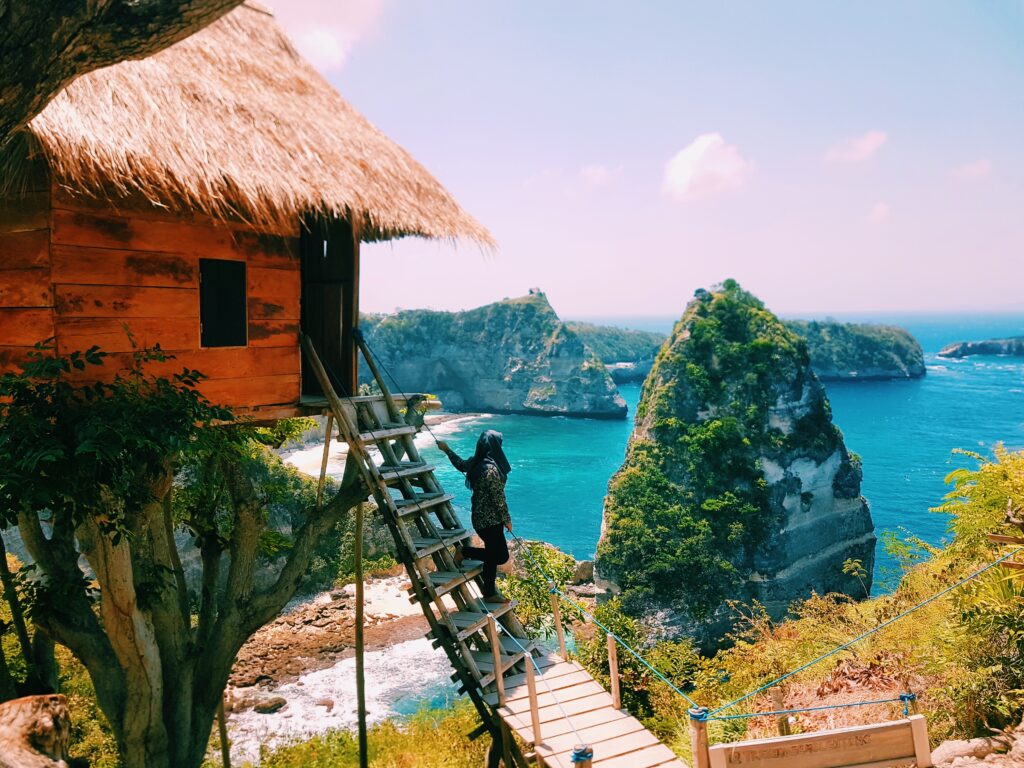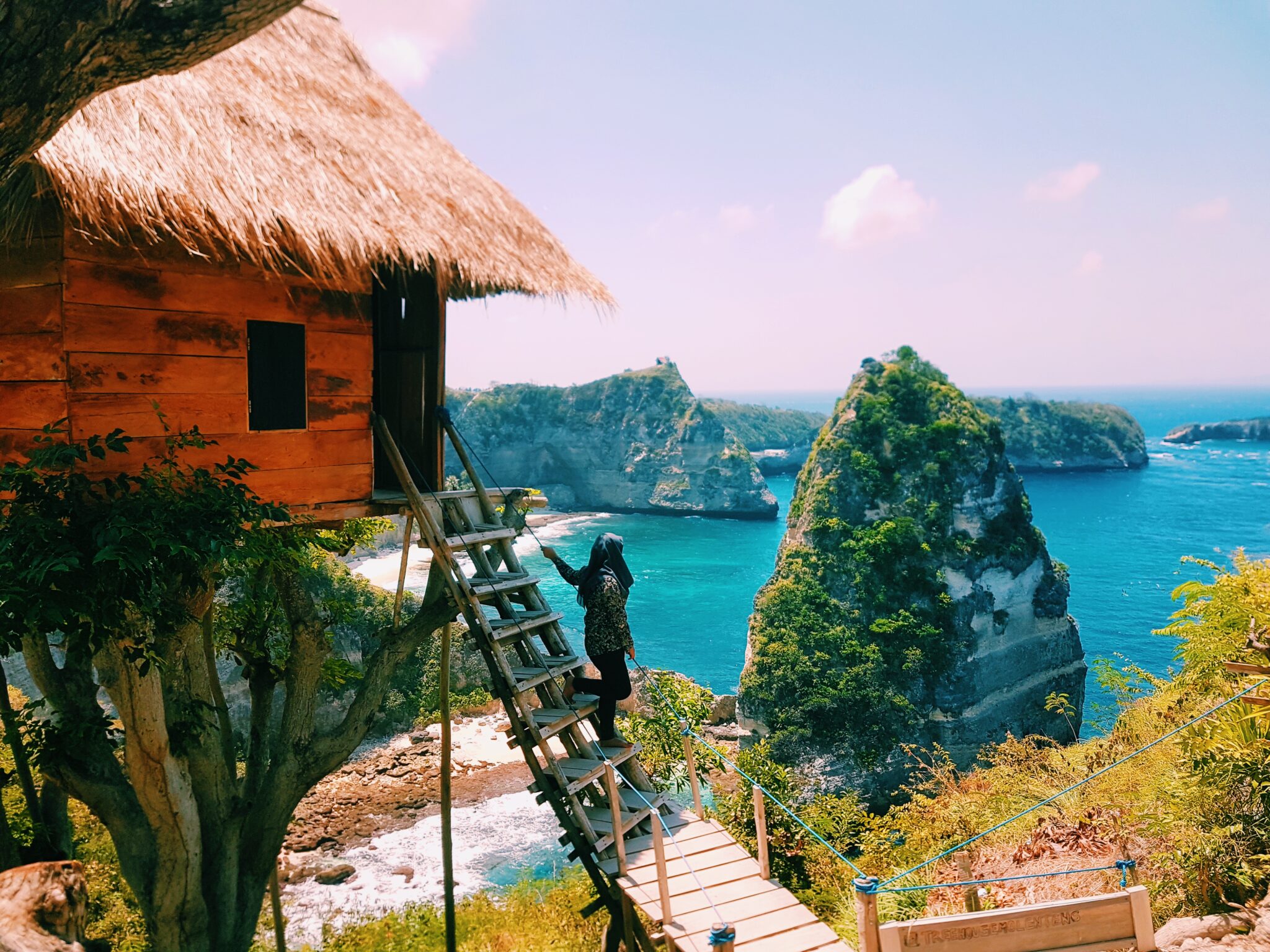 Besides the countless hotels and hostels, there are also some special places to stay:
The tree house Rumah Pohon at the viewpoint on Atuh Beach enchants with its unique views. You fall asleep to the sounds of the animals and wake up in the morning to the sunrise over the Raja Lima Islands.
Another type of accommodation is the Green Palm Homestay, where is not on the beach, but in the green surrounded by traditional Balinese architecture. Another advantage is the proximity to the night market of the island.
Angels Bungalow is built from natural materials, which is very charming.
The Namaste Bungalows are the perfect balance between greenery and beach due to their close proximity to Crystal Bay. These bungalows offer a soothing oasis of tranquility.
Info / Weblinks for further reading
Conclusion
In conclusion, Nusa Penida is highly recommended and you can see everything from culture to adventure to stunning beaches. The best part? The island is still relatively untouched and inexpensive.