Where is Bingin Beach located?
Bingin Beach, also called Pantai Bingin in the local language, is one of the most famous and popular beaches on the island of Bali. At the same time, it is also a paradise for surfers from all over the world.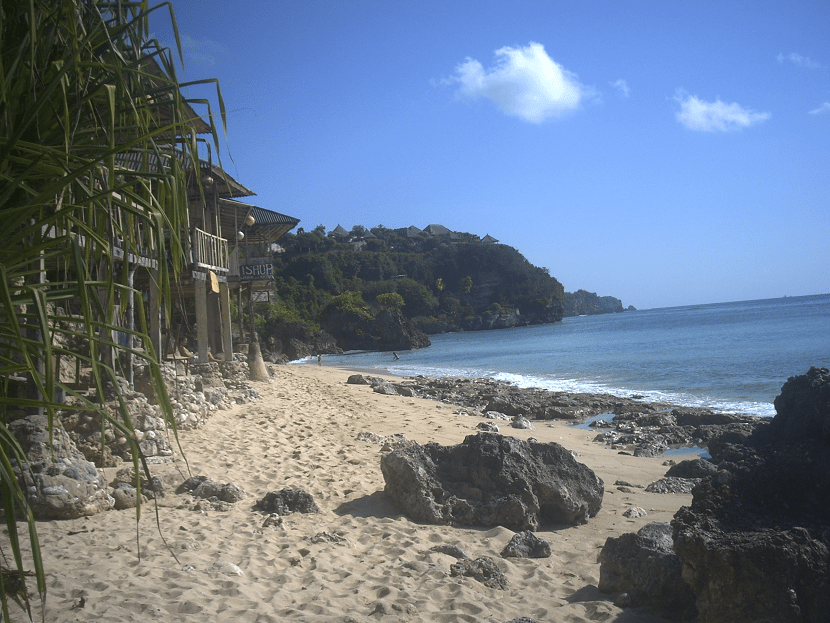 You will find this magnificent beach in the south of the island, more precisely on the Bukit Peninsula, which belongs to the Kuta district. At Bingin Beach you will find world-class surfing conditions that attract surfers from all over the world. Likewise, the "normal" beach vacationer will find everything his heart desires here.
Distances:
From the center of Jimbaran it takes you about half an hour to get to Bingin Beach. From Kuta you will need about three quarters of an hour. From Siminyak, just as from Sanur or Denpasar, expect about an hour's drive.
As long as you are in the region in and around Uluwatu, we recommend renting a scooter. You can perceive and enjoy the varied area with its numerous viewpoints better than by car.
For longer distances, you should rent a car or even better, opt for a car with a driver. Since there are many accidents with scooters in Bali during the high season, this is the safer alternative. Local drivers know the dangers and provide you with helpful tips and information. In addition, you will usually be picked up directly at your accommodation, brought back there and provided with drinks during the trip.
What activities are available?
There is no paved road that will take you directly to the beach. Therefore, you will have to walk the last meters. For a very small amount in local currency you can park car or scooter at the parking lot, so take little cash.
From the parking lot, follow the signs that will lead you past some small accommodations. Afterwards, you will descend a staircase to the sandy beach. Don't be confused by the maze of little beaten footpaths that have sprung up over time: They all lead more or less to the golden sands of Bingin Beach.
Bingin is the hotspot for surfers par excellence. You can of course rent boards or take surf lessons here. Several surf stations offer you all this here. On average, surfboard rental costs around IDR 50000 for two hours.
If surfing isn't your thing, you'll still find plenty of ways to pass the time at Bingin Beach. Walk south and walk around rocks and cliffs of various formations. You will find countless photo opportunities, deserted stretches of beach with picturesque coves and beach huts.
The best restaurants on Bingin Beach are probably Kelly's Warung and Lucky Fish. If you enjoy watching spectacular surfing by professionals, Kelly's is the perfect place. Here you can meet from a gigantic offer of sandwiches, burgers, Indonesian cuisine, fresh juices, smoothies and coffee. Lucky Fish, as the name suggests, offers seafood and fish from the grill. It is a perfect place if you want to enjoy the picturesque sunsets and sip an ice cold beer with it. There is very often live music here on the weekends in the high season.
Local Rules of Conduct:
As everywhere in Bali, the rules for sustainable tourism apply here as well. The beach must be kept clean at all costs. Unfortunately, like everywhere, there are black sheep. Please avoid plastic wherever possible: bring your own water bottle, bring recyclable snack boxes, and skip straws. Also articulate these wishes to the waiters and waitresses.
A fair tip is appreciated to them as well as your drivers, guides or surf instructors. Take an interest in their lives, families and careers. This is the only way to develop a mutual understanding of the culture and way of life.
On the beaches of Bali there are no rules about dress code. However, toplessness is not common or desirable here either.
What should you definitely try at Bingin Beach?
Probably nowhere in Asia is surfing as popular as on Bali. You will rarely find so many opportunities to learn this sport as on their beaches. Even if you're not into sports, try this experience on Bingin Beach for at least an hour or two. If you don't feel like it, find a secluded stretch of beach to unwind for a bit. The crowning glory of your day trip could then be a fresh fish dish from the grill or a delicious vegetable curry.
Best time to travel and visit:
The best time to visit Bingin Beach is the dry season between May and October. Most popular with surfers are winds from the east, which swell toward the southwest during the day.
Livestream beach cameras inform visitors to Bingin Beach in advance what conditions are currently prevailing.
If you want to surf, be at the beach as early as possible: early in the morning and in the morning you will find ideal conditions. The later in the day, the more crowded the beach will be and the less freedom of movement and space you will find on the beach. Avoid midday and early afternoons, especially daytime visitors crowd the beach then. If you have your accommodation near Bingin Beach, enjoy the time just before sunset, because most of the day visitors have already left the beach.
Who is Bingin Beach suitable for?
There is no age restriction for visitors to Bingin Beach. Unfortunately, like many others on Bali, this beach is only accessible by stairs. The visitor restriction is therefore self-evident: If you physically cannot climb stairs, you cannot reach Bingin Beach.
Information / Web links for further reading:
https://www.travelforyourlife.com/bingin-beach-bali/
Conclusion:
Bingin Beach is one of the most beautiful stretches of beach in the south of the island of Bali and its peninsula Bukit. Here the beach vacationer will find everything his heart desires. The beach can be reached within one to two hours by car from anywhere.
Bingin Beach is most frequented by surfers who prefer the dry season between May and October. Accordingly, Bingin Beach offers everything a surfer's heart desires, from surfboard rentals to surf lessons and beach houses.