(Taman Nasional Bali Barat)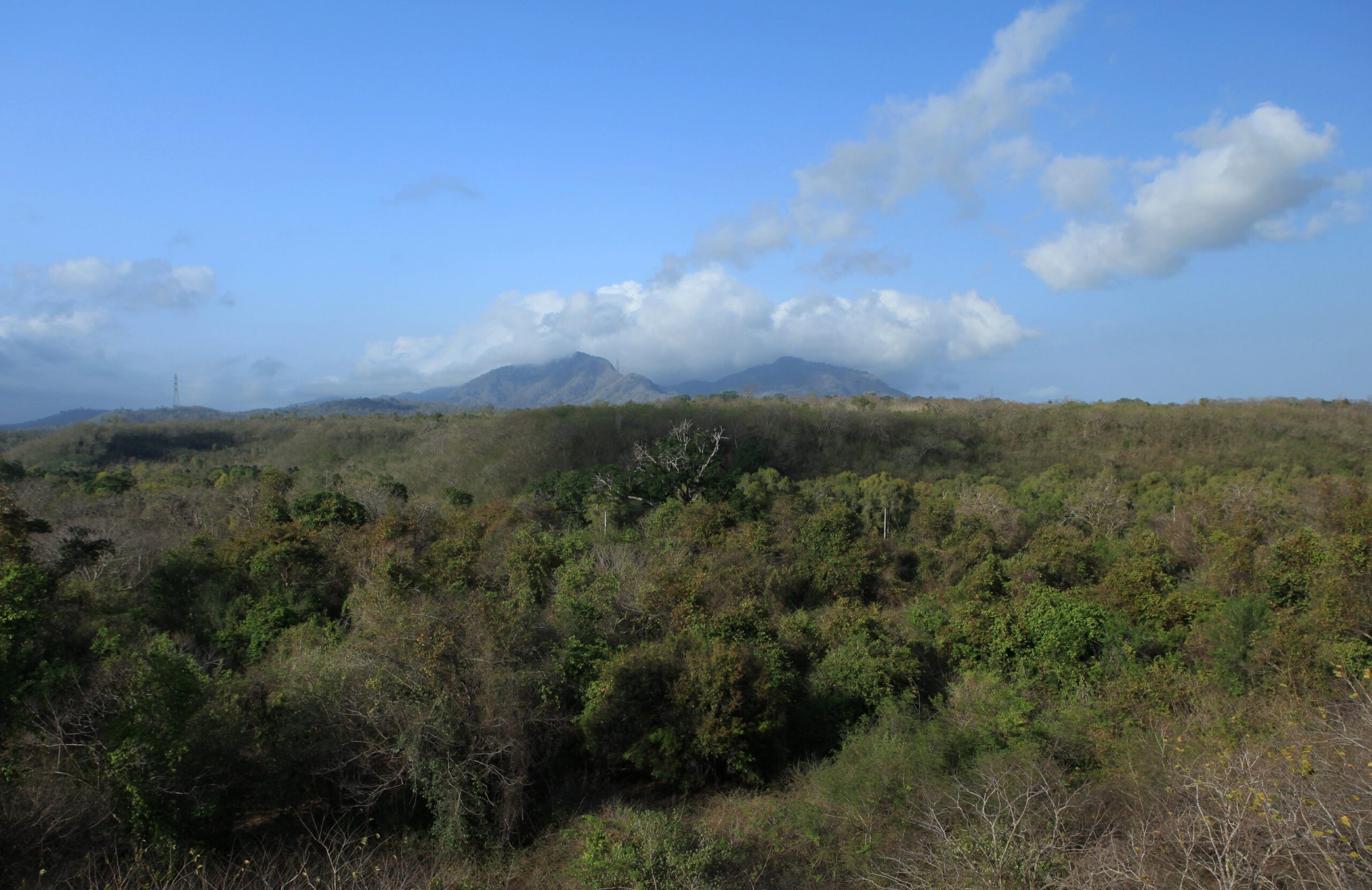 Location of West Bali National Park
For a parking permit, please contact the park administration:
Balai Taman Nasional Bali Barat
Raya Cekik-Gilimanuk
Kabupaten Jembrana,
Bali 82253
Indonesia
Phone: 0062 365 61060
Sie sehen gerade einen Platzhalterinhalt von Standard. Um auf den eigentlichen Inhalt zuzugreifen, klicken Sie auf die Schaltfläche unten. Bitte beachten Sie, dass dabei Daten an Drittanbieter weitergegeben werden.
Mehr Informationen
The West Bali National Park, with a total area of about 780 square kilometers, is located in the extreme northwest of the Indonesian resort island of Bali. The only national park on the island encompasses the entire mountainous peninsula of Prapat Agung, which juts out into the Bali Sea of the Indian Ocean as a small tip with its protected sandy beaches. In addition, the uninhabited island of Pulau Menjangan with its offshore coral reefs as well as large areas of land around the towns of Cekik, Gilimanuk and Banyuwedang belong to the Taman Nasional Bali Barat, as the West Bali National Park is also called. The 130 kilometer journey from the in
ternational airport Denpasar to the northwest of Bali, which is less developed for tourism, takes about four hours by car.
What activities are available in West Bali National Park?
In order to maintain the unique flora and fauna, some of which are threatened with extinction, visitors have access to a tendered area for a variety of sports activities, sightseeing and impressive panoramic views. Access is only possible with a permit and a tour guide and promises unforgettable moments in the green lungs of Bali. You can get the entrance ticket for a fee at the visitor center of Cekik and Labuhan Lalang.
Hikes, trekking adventures and mountain bike tours
On narrow paths you will hike through the impressive jungle landscape with its unique fauna of lizards, monkeys, giant squirrels, deer and a rich bird life. The tours, which you can book at the visitor center of Cekik and Labuhan Lalang, have different levels of difficulty and length and lead you for half a day or a whole day through an almost untouched natural paradise, past waterfalls, through densely forested mountains, mangrove swamps and extensive palm savannahs.
Diving and snorkeling
In front of the long, snow-white sandy beaches of the Prapat Agung peninsula and the island of Pulau Menjangan stretch impressive coral reefs with a colorful underwater world cavorting in the turquoise waters. 12 dive sites offer spectacular dives into mystical caves, along steep walls or to an ancient Shipwreck from the 19th century lead. The coral gardens, well lit by the sun, offer a true Eldorado for snorkelers on the north side of the island.
Excursion to the island of Pulau Menjangan
From Labuhan Lalang you can reach the island after a 30-minute boat ride. Pulau Menjangan is not only a paradise for divers, but also home to the Menjangan, a rare species of muntjac deer. You can observe them in their natural environment and while swimming in the turquoise waters of the Bali Sea or explore the temple complex of Puri Gili Kencana.
The Bali Tower
Bali Tower is an impressive observation tower built from five tree trunks, each 80 centimeters in diameter and 33 meters long. Due to its enormous height, you will get a spectacular panoramic view of the forests shining in lush green and the blue sea from the observation deck.
What do you have to consider on site?
Mosquitoes are more active in the afternoon and evening. Remember to wear long, lightweight clothing that keeps arms and legs covered, and use insect repellent as well.
Sturdy footwear for trekking through the sometimes lush undergrowth is essential.
If you want to take an early morning tour of the natural paradise of West Bali National Park, you should look for accommodation in nearby Cekik or Gilimanuk, as traveling from cities further away will take more time due to the infrastructure.
There is no possibility to get drinks and snacks in the national park. Be sure to pack enough provisions. Around the village of Cekik there are many stores that cater to visitors of the park.
Divers and snorkelers should be aware of current weather conditions as they may cause strong currents.
What you should not miss in West Bali National Park?
Birdwatching Tour
With more than 160 different species of birds, West Bali National Park is a paradise for bird watchers and nature lovers. A birdwatching tour gives fascinating insights into this species-rich bird world. With a little luck, you'll spot the endangered Balistar, a blackbird-sized bird with striking white plumage and blue-rimmed eyes. He is the reason for the creation of the national park.
Guided tour of Taman Nasional Bali Barat
A professional guide will lead you on a trekking tour through the jungle with free-roaming monkeys, kingfishers and all kinds of other wildlife. On an associated boat tour you will glide through the rustic mangrove forests. An unforgettable experience in a vacation in Bali.
For whom is the West Bali National Park suitable?
Nature lovers and explorers will be as thrilled by the impressive flora and fauna of West Bali National Park as photographers and bird watchers. In addition, active vacationers get their money's worth.
Conclusion
The Taman Nasional Bali Barat is a still almost untouched paradise, whose different natural areas range from rainforest to savannah. The limited number of visitors allowed to enter the park each day, as well as the limited area for this purpose, makes it possible for this unique landscape to be preserved in its original form and for a visit to become a special and unforgettable event.