Negeri Propinsi Bali Museum is located in the city of Denpasar and has the official name of Bali Provincial State Museum.
The institution is an art museum with a recommended stay of 2 to 3 hours per visit. The museum can be visited either as a singular attraction or as part of a tour of the old town.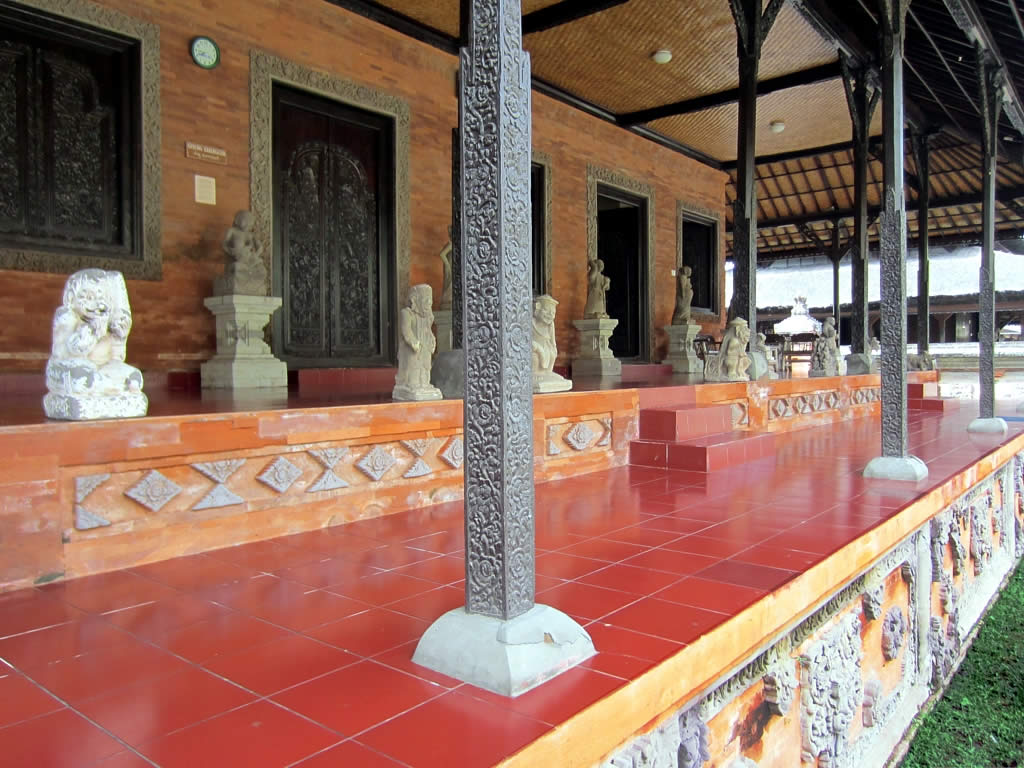 Where is the museum located and what kind of artifacts are on display?
The Negeri Propinsi Bali Museum, also known as the Bali Museum, is located in the heart of Indonesia's old city of Denpasar and offers the largest collection of historical and cultural artifacts from all over Indonesia. Among them are fashionable artifacts and textiles such as masks and dance costumes.
When, by whom and for what purpose was the museum opened?
The museum was built by the architect P. J. Moojen and opened in 1931. The exact purpose why the museum was built at that time has not been handed down.
However, it was modeled on ancient Balinese royal palaces in architectural style, which may indicate a wealthy and upscale target audience.
Local rules of conduct
As in any museum, all visitors are expected to behave in a quiet, respectful and appropriate manner. So you are not allowed to run through the aisles, touch objects and glass without permission or drink alcohol. Whether it is allowed to take photos of the artifacts, you have to ask on site.
What activities are available/what should you definitely do?
You can take a relaxed tour of the museum's various buildings or visit individual rooms. Moreover, it is worth admiring the architectural style of the buildings at leisure.
The property has a large outdoor area, so it is convenient to include breaks in the fresh air and enjoy nature in good weather. Otherwise, the museum offers keime additional activities for visitors.
For whom is a visit suitable?
The museum is worth visiting especially for people who are interested in old architectural styles or architecture in general, as well as in the art, culture and history of Indonesia. Formerly the Museum of Ethnology and Natural History, its focus is on the art and architecture of the island nation from the early modern period to the present.
A visit is recommended for interested laymen as well as for students and researchers of art history. Due to the fact that the institution is a quiet place, it is less suitable as a destination for families with small children.
Info and web links for further reading
If you are interested in Negeri Propinsi Bali Museum, you can get more information on the Internet before your visit. As already mentioned, the museum does not have its own homepage. However, you will find digital and analog guidebooks.
These include Marco Polo and TripAdvisor. However, there is little information about the museum on the Internet.
Conclusion
A visit to the Museum Negeri Propinsi Bali is recommended especially for interested laymen and students of architecture and art history of Indonesia.
Being a place of tranquility, it is not suitable for families with small children. Adult couples and friends, however, can spend an interesting and beautiful time together there.
Address/contact details
The Bali Museum is located at the following address:
Jl. Mayor Wisnu No.1, Dangin Puri, Kec. Denpasar Tim., Kota Denpasar, Bali 80232, Indonesia.
If you wish to contact the museum, you can do so by phone at +62 361 222680. A homepage to the museum is unfortunately not available.
The opening hours are as follows:
Monday 08:00-16:00
Tuesday 08:00-16:00
Wednesday 08:00-16:00
Thursday 08:00-16:00
Friday 08:30-12:30
Saturday 08:00-16:00
Sunday 08:00-16:00