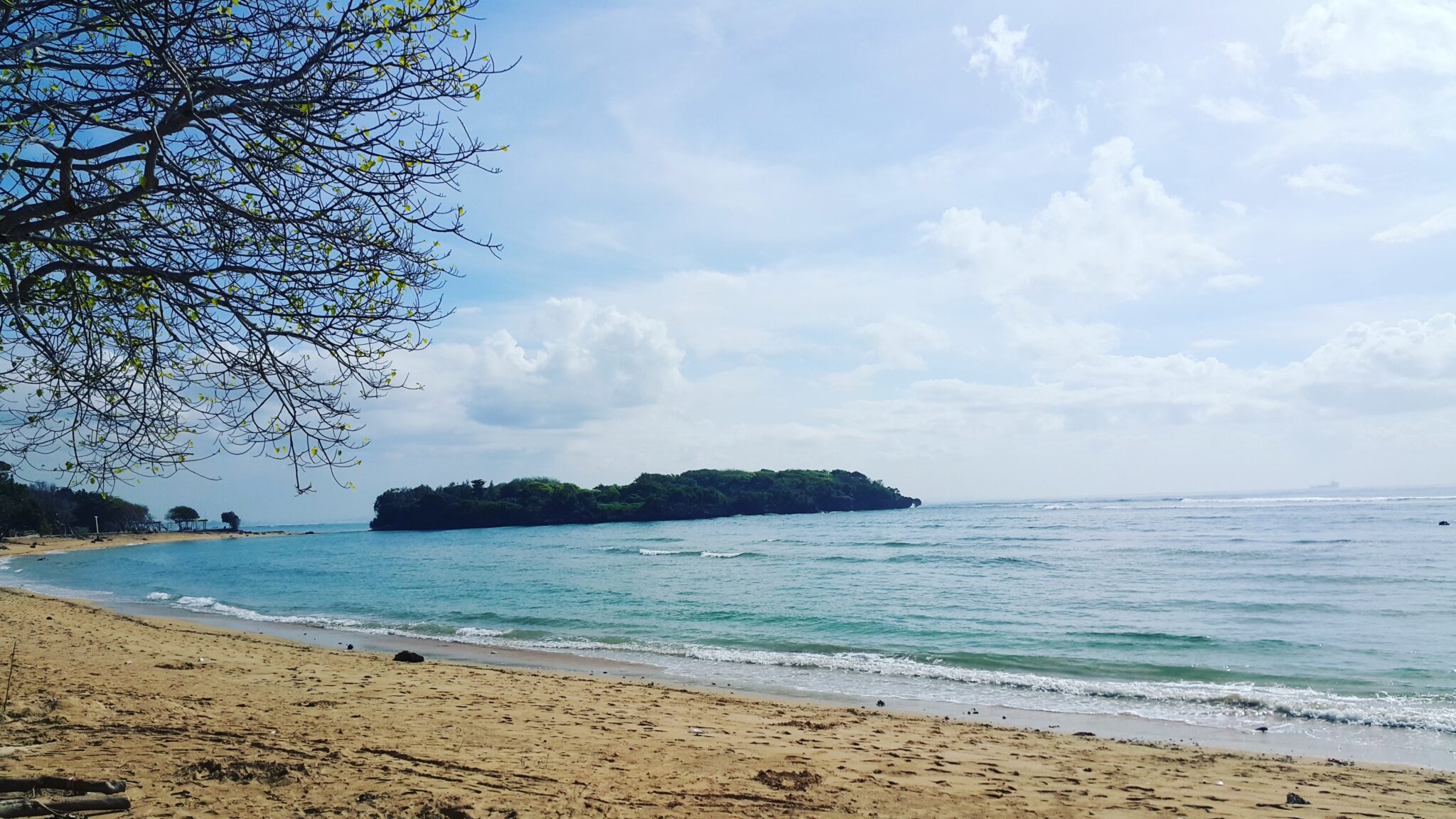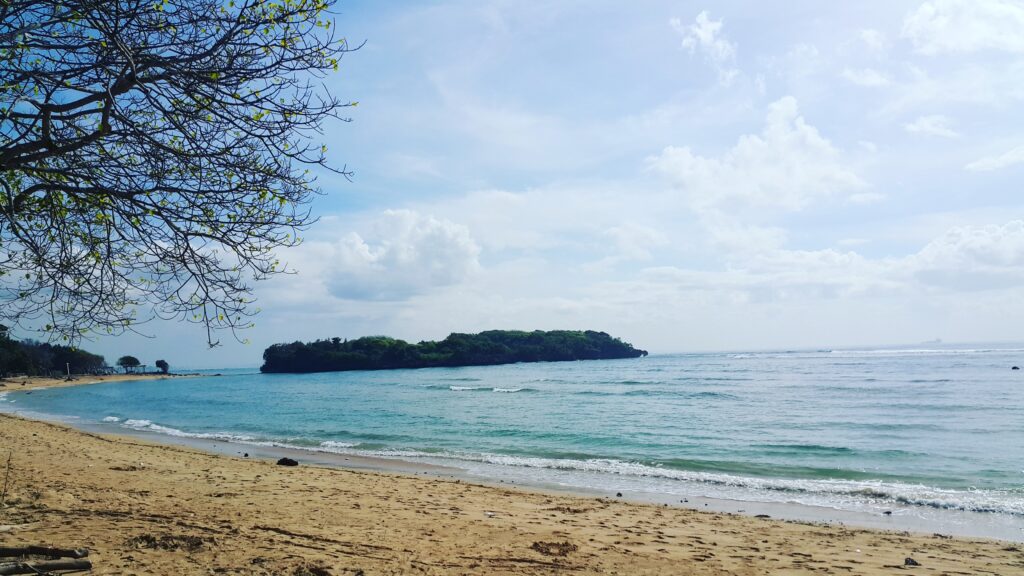 Where is the Padang Padang beach located?
Padang Padang Beach belongs to Pecatu Village on the coast of Bukit Peninsula. The village of Pecatu is politically part of the South Kuta district in southwest Bali. From Kuta in the central south of the island, it takes about an hour and a half drive to Padang Padang Beach.
From Bali International Airport, it takes between twenty and thirty minutes to reach the beach and associated accommodations. If you combine the beach visit with a visit to the cliff temple Uluwatu, you have to reckon with a short drive of ten minutes between the two attractions.
From the parking lot on the beach, you can reach Padang Padang beach through access via a moderately steep slope and several steps. You can already look down on the beach from a bridge that connects the cliffs above. The way to the beach will also lead you through a special limestone cave.
At the end of the stairs to the beach, a magnificent sight of deep blue water, white sand and of course the anticipation of a dream day awaits you.
Organization and means of transport
Depending on your starting point, you can reach the beach by scooter, which is very popular in Bali. For this you have to calculate with a rental fee of about 3 € per day. This is true, for example, of the Uluwatu region nearby.
If you have settled further away, you should rather rent a car or better a car with a driver. In Bali, this is one of the safest and most reliable forms of transportation. The price usually includes not only the car and driver, but also fuel, mileage, parking fees and guide.
Best time to visit Padang Padang Beach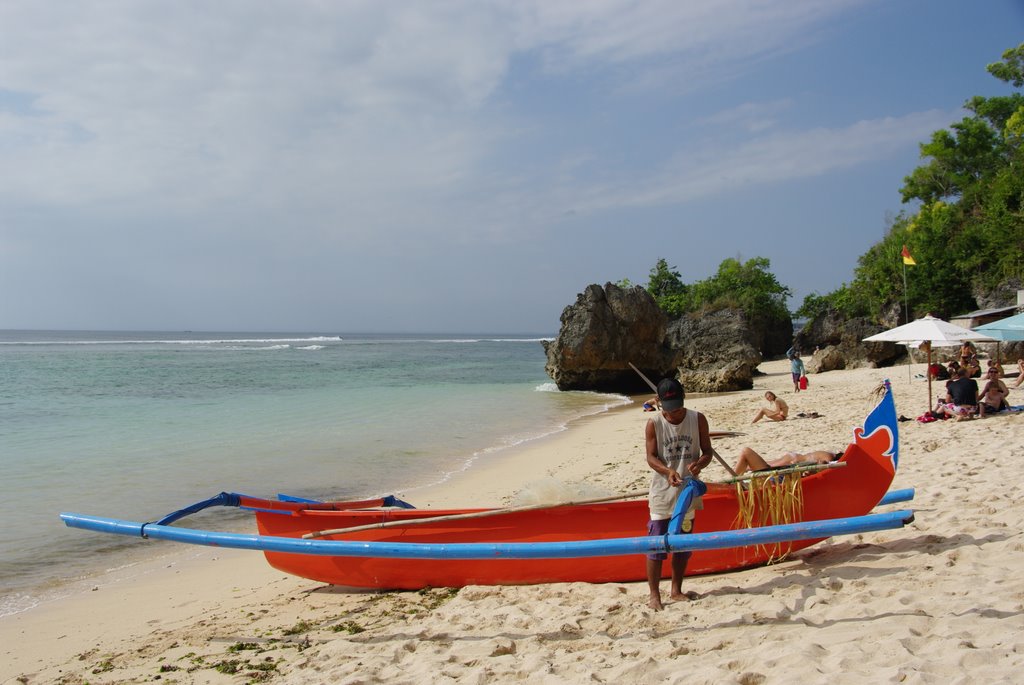 Bali in general and Padang Padang Beach in particular are an ideal travel destination all year round. Here, with few exceptions in the rainy season, the sun shines all year round.
The best time for beach lovers are the months from April to October: here it hardly rains and you can spend time on the beach from morning till evening. But even during the rest of the months it is pleasantly warm here – a little downpour can be a pleasant change.
What activities are available at Padang Padang Beach?
Imagine a picturesque beach framed in the background by steep cliffs of limestone, ideal for all activities in and by the sea: this is Padang Padang Beach in Bali.
Padang Padang is a beach interspersed with reef breaks. Beyond these breaks, professional surfers have staked out their territory because of the high waves. Watching them gives the greatest pleasure. Very many visitors actually come here just for the surfing opportunities. But also for all other visitors there are possibilities of activities that offer an unforgettable day.
For the novice surfers, but also for the swimmers, snorkelers and sunbathers among you, the beach within the reef breaks offers gentle swimming and family fun. Both grandparents and children will find beach fun without dangers.
If you don't feel like going to the beach after two or three hours, you can explore the sights that are within a short distance from Padang Padang Beach. Here you can visit the Uluwatu Cliffs or the Garuda Wisnu Kencana Cultural Park.
While exploring the area by scooter or car, you can make a stop at Uluwatu Temple or Bingin Beach.
Padang Padang Beach is a lively beach where vendors sell locally made products (colorful sarongs, hats and bathing accessories). Here you can find a special friendship ribbon or t-shirt to give to a friend as a souvenir at home, even without tedious searching.
The surfers among you turn to the local surf station, where you can rent suitable surfboards at a low price. A rescue station for emergencies is also housed here. Of course, the beginners among you can get surf lessons here.
When the tide is out and the water recedes, you can walk along the foot of the limestone cliffs. You will find countless photo opportunities, but also tranquil places to sit down and read a book in peace.
Of course, you don't have to go hungry or thirsty at Padang Padang Beach. You can order fresh seafood and fish and enjoy them fried or grilled. Various menus, with or without drinks, are offered here for the physical well-being for a very low price by European standards.
Local rules of conduct
You do not need to follow a dress code at Padang Padang Beach, but you do need to follow the standard code of conduct for sustainable tourism. Treat locals with respect, tip appropriately for services and income levels, and keep the place clean. Leaving trash and especially plastic trash behind is a no-go.
To visit Padang Padang Beach, expect to pay about 70 cents per person and about the same amount for parking. It is required that you pay in local currency, so have the amount ready to avoid unnecessary complications.
Here, too, the cheeky macaque monkeys are omnipresent. So pay attention to your loose items. The monkeys do not stop at purses, glasses or headgear, smartphones, food and drinks.
What should you have experienced at Padang Padang Beach?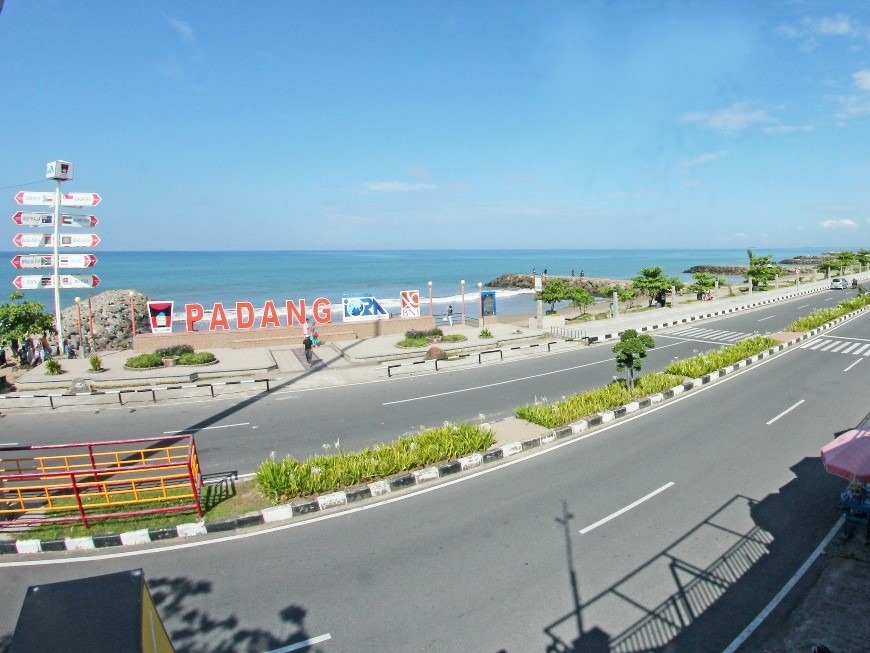 Most lovers of the island of Bali sooner or later come across surfing, which rules many stretches of coast here. Therefore, it is highly recommended that you give this a try, for which Padang Padang Beach is particularly suitable. Huge waves and the beautiful white beach are just perfect for this.
It is not for nothing that international surf competitions like the Rip Curl Cup are held here. In the late afternoon, the sun sets in the Indian Ocean, making the event unforgettable. If you want to learn to surf, the months from June to September are particularly suitable for this.
Stronger and higher waves promise the months of April, May and October. Here you have the advantage of sharing the beach with a much smaller number of fellow surfers.
Who is Padang Padang Beach suitable for?
There are no restrictions on this particular stretch of beach on the island. The exception is people who cannot manage a simple staircase. Unfortunately, this includes all people with limited mobility due to crutches or wheelchair.
Padang Padang Beach is suitable for families with children as well as for single travelers and for water sports enthusiasts. It is especially suitable for surfers, but equally for lazy people with a love of the beach and the sea.
Further information / web links for further reading
Here you can find more information to read or book:
Conclusion
Padang Padang Beach is located in the southwest of the island of Bali and can be reached inexpensively by scooters as well as by car. Here you can enjoy one or more days of wonderful beach life.
For little money you get surf lessons, a surfboard and culinary highlights. The beach offers many opportunities for activity even for non-sportsmen and families with children: playing, swimming, snorkeling, walking and photography.