Location and arrival to Ubud:
Ubud is located relatively centrally on Bali and is therefore directly accessible from the airport.
From Denpasar airport, the easiest way to reach Ubud is by cab, which are plentiful on site. About 400,000 rupees must be paid for it – duration depending on traffic 1-2 hours. In general, due to the high traffic density in and around Ubud, traffic jams must be planned for when arriving or departing.
Ubud offers many activities – our tips:
The first thing to do is to exchange some cash from Euros to Indonesian Rupiah. Rates fluctuate daily and vary from provider to provider. Change should be recounted, because mistakes can happen to anyone. ATMs are also available – if you withdraw a minimum amount of 50€ from your bank with a credit card, you will immediately become a multiple millionaire!
Just a walk through the Balinese city exceeds all expectations! The many motor scooters, street dogs, monkeys, roosters, the small bird cages on the roof overhangs, religious house altars and magnificent works of art at many intersections and the rice fields and waterfalls characterize the nearby surroundings.
In the north of the city begins the hiking area Campuhan Ridge.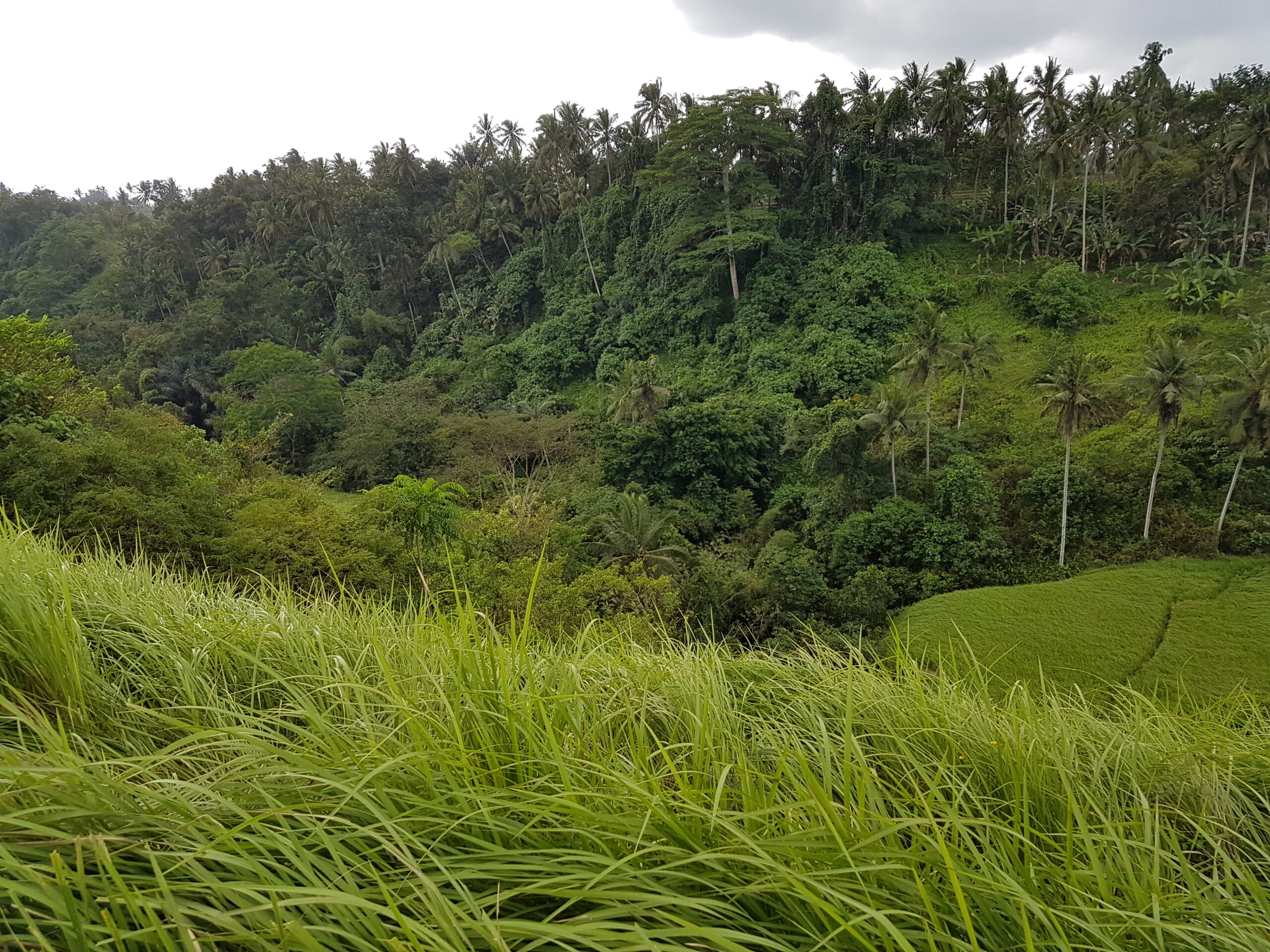 A popular waterfall is Tegenungan. Since this dreamlike place is very crowded from 11am, but opens at 6:30am, it's worth getting up early.
Even shopping in a supermarket or market offers a wealth of cultural features – where in Germany do you see giant rice sacks with a candle burning to address a deity?
In Ubud, numerous activities can be booked. Among them are various cooking classes, water rafting, massages or yoga classes, depending on your preferences.
What are absolute highlights and sights?
If you are vacationing in Ubud, you can't miss the Monkey Forest with its 700 macaques – for 50,000 Rp you can visit the park from 8:30 am to 6 pm. Designed as a tourist highlight, the Monkey Forest aims to create a connection between man and his environment.
Very important: it is best not to take bottles, drinks, snacks into the park. The animals are strongly accustomed to people and have no inhibitions to steal interesting objects. Several times we have observed how tourists snacks out and immediately by partly aggressive monkeys were pressed these to give -> there is not for nothing a large sign at the entrance.
Rabies and monkeys: Whether you get vaccinated for rabies on a Bali trip is a completely different issue. I had done it at that time but there was no real danger at any time. However, according to the provider's homepage, the monkeys in the monkey forest are absolutely rabies-free – so there is no danger here. Please note for a great trip only avoid snacks and co. – give the monkeys even with cameras no sources of theft :). Bananas can be purchased in the park for little money, with these you can feed the monkeys or e.g. get to pick up the bananas on your shoulder.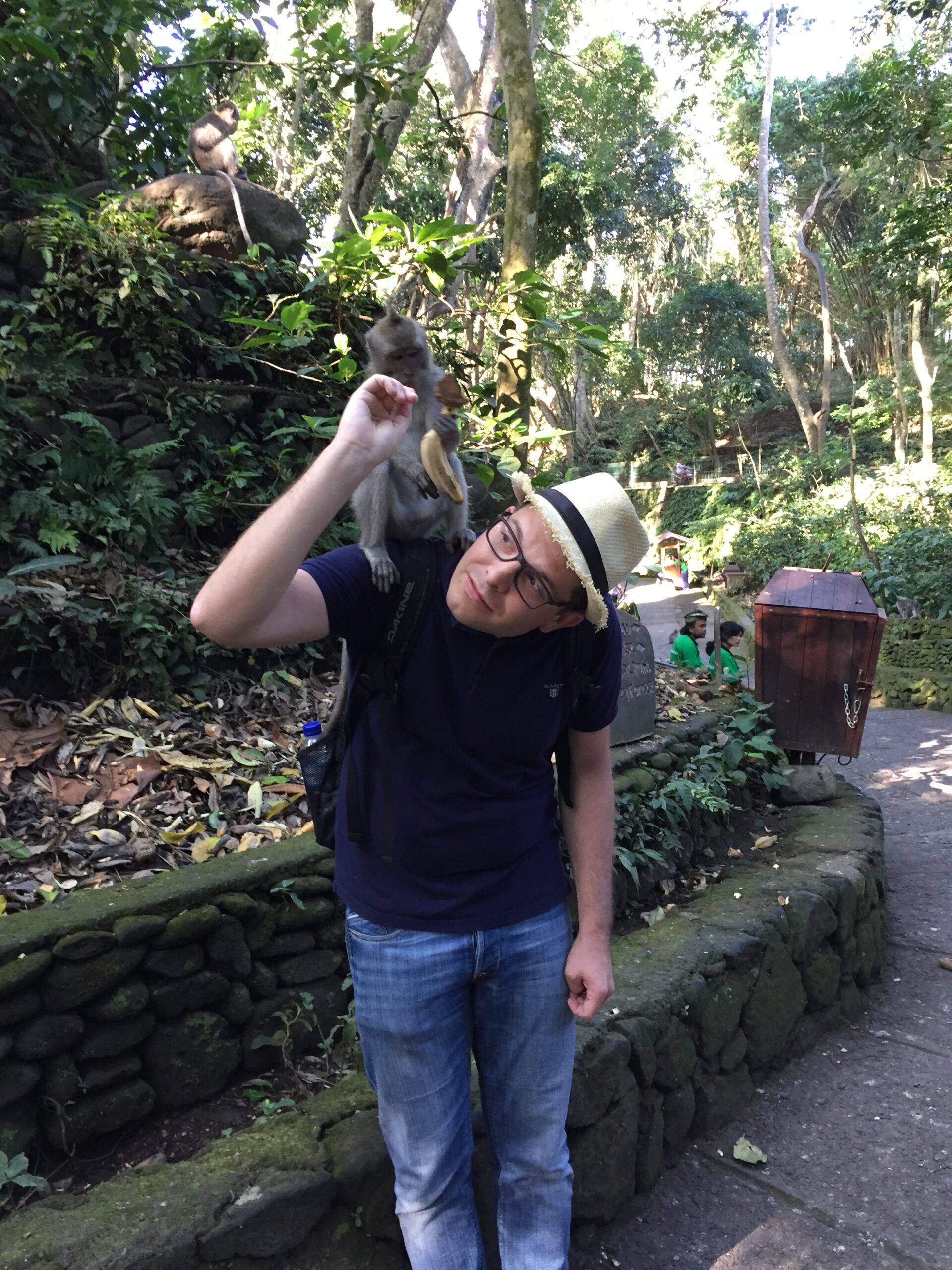 Very close to Ubud is Goa Gajah. This temple is a real splendor and absolutely worth seeing. Tourists can get a blessing by having someone put a ylang ylang flower behind their ear and stick rice on their forehead. Also here you should appear in sarong, shopping facilities for 70,000-150,000 Rp. offer themselves in the parking lot.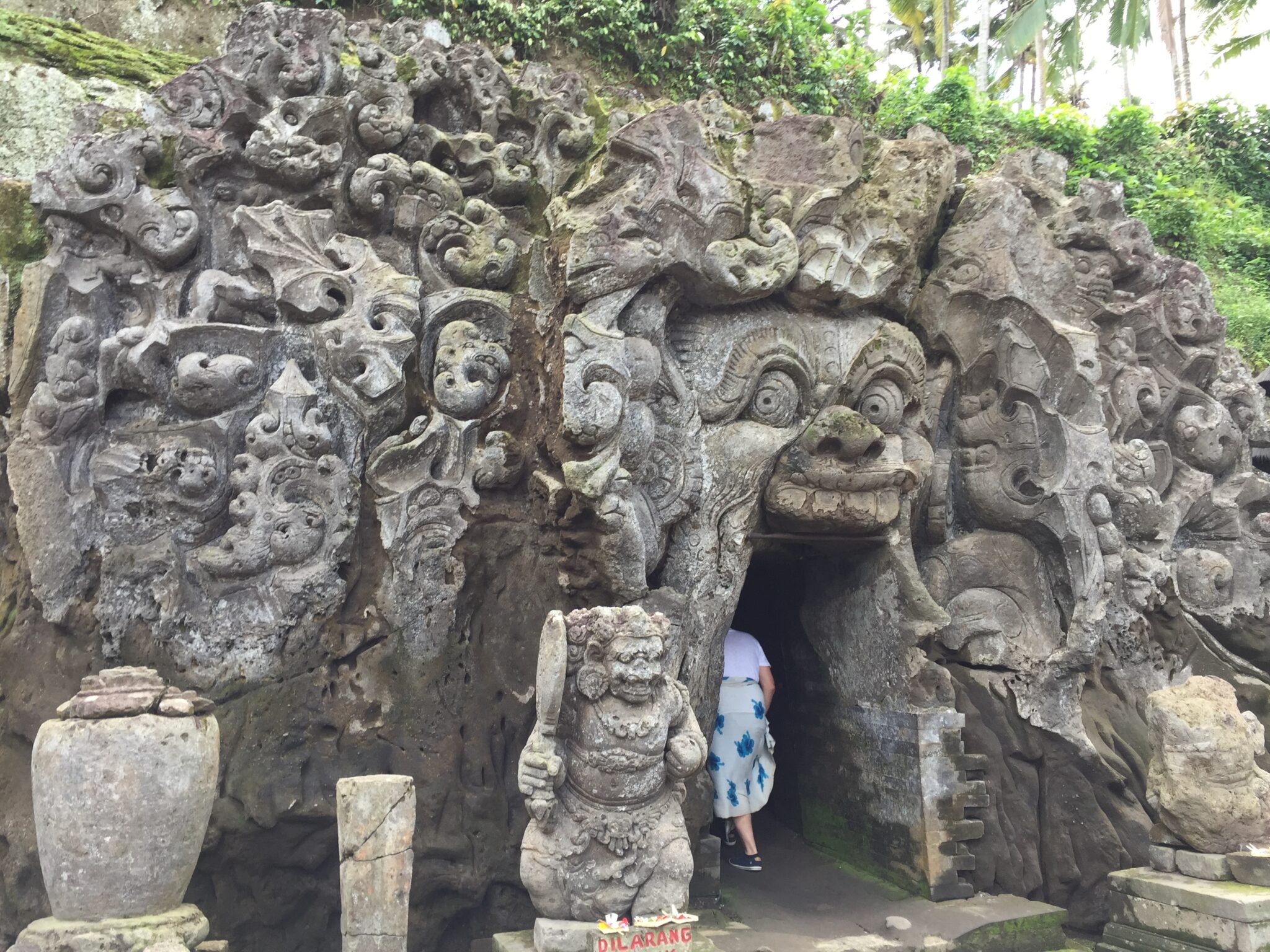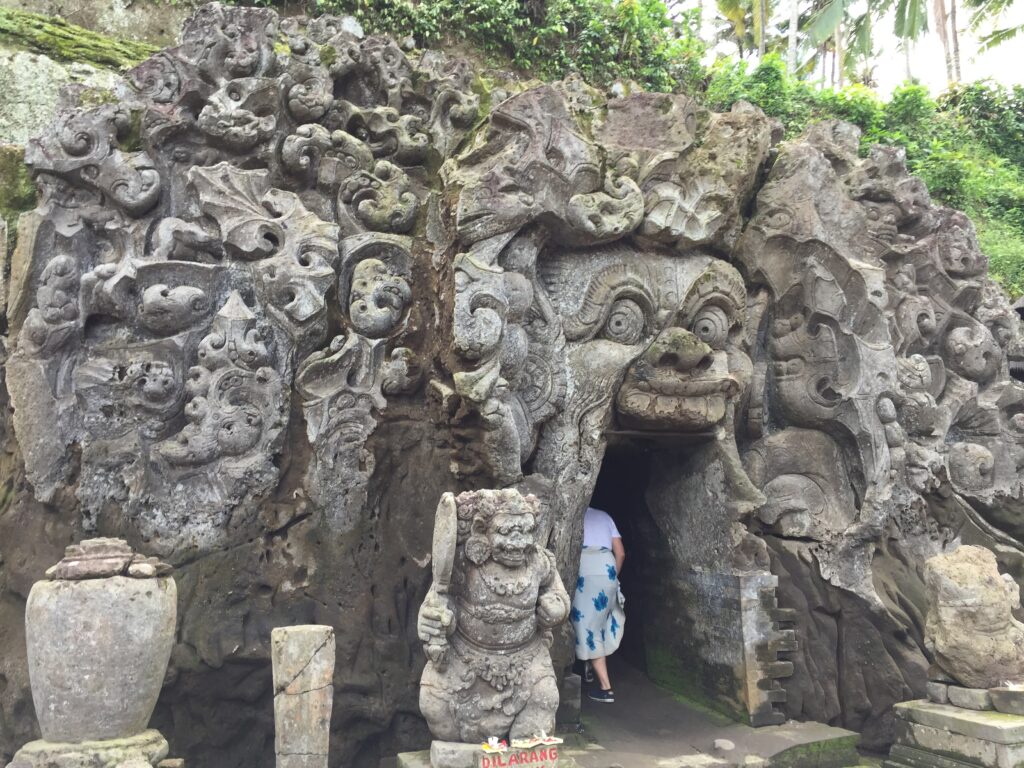 Ubus is usually quite busy and the traffic density is correspondingly high. Along the main road Raya Ubud there are therefore very often very long traffic jams. For the center, it is best to walk.
Location Tip: City hustle meets rice field with top warung
If you are looking for the change from the main street to the dreamlike rice field terrace at its strongest, you should visit the following location:
Raya Ubud height ATM Panin Bank opposite "The Paon International Restaurant" a very small and tiny alley goes off. It is very easy to miss them if you are not looking for them. This alley is about 200m long and winding – but if you follow it to the end, you'll be right in the nature with a dream scenery.
A little further on the rice field comes the "Sweet Orange Warung" which offers very tasty food and drinks directly in the rice field. At the time of our visit, painters and artists were also active in the field – so that here you could buy paintings directly from the painter (price for a 50cm picture about 50€ – as of 2019). Entrance and warung on Googlemaps: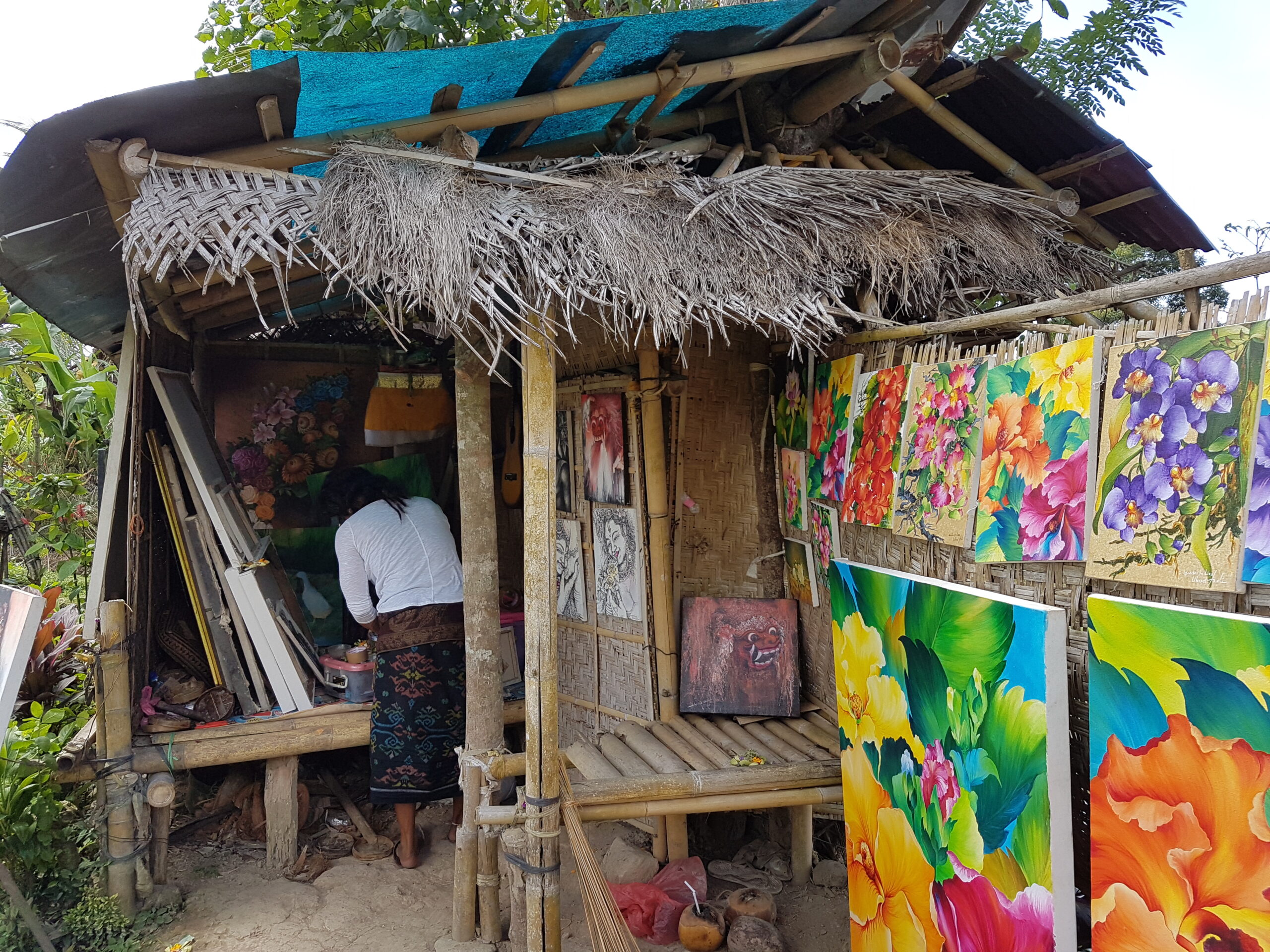 Are there any local specifics?
If you suffer from Bali Belly or want to add some new lactic acid bacteria to your intestines, you should try the traditional healing drink Jamu for about 5k. A colorful log cabin across from the Pertamina gas station offers this in ginger, turmeric or curcumin varieties.
Vegan Restaurants / Vegan Scene in Ubud
In Ubud there are many vegan restaurants including 9 Angels and Seeds of life where you can pay as much as you want for a buffet meal. This great concept attracts interesting people! Especially solo travelers can quickly connect with each other here.
More restaurant tips in Ubud:
Melting Wok (cross street of Raya Ubud main street) extremely delicious food. Small warung run by a French couple offers daily changing food for small money. Important: Reserve by Whatsapp / phone or on site – even if it is a Warung – the tables are taken quite quickly.
Contact: Facebook | Phone: +62 821-5366-6087
Cafe Wayan: Since 1986 in Ubud – Very large restaurant with classic dishes. The restaurant is very open and very large – so there is plenty of room for privacy and you can dine surrounded by tropical plants with candlelight.
Contact Website | Phone: +62 361-975447 | Whatsapp: +62 81-238-957-857
Nature and waterfalls in Ubud and surroundings
Besides the waterfalls overrun by tourists, there are of course many beautiful places in the jungle. One of them is the Secret Waterfall in Ubud. Leaving the village at the Maya Resort, you will reach a small bridge in front of which a narrow path leads into the jungle. Passing an abandoned house, crossing two small streams, an inconspicuous path to the right of a Hindu temple leads down to the natural spectacle.
For whom is the place suitable?
Ubud is ideal for vegans In addition to the numerous hip restaurants, the immense selection of small eateries and stalls with local fruits and vegetables offers variety and diversity.
Yoginis also get their money's worth here. Many yoga resorts offer their courses in gorgeous surroundings. In sum, a trip to Ubud is worthwhile for all. The Monkeyforrest as well as the proximity to nature combined with top restaurants offer something for everyone.
Important: In Ubud there are many day tourists who visit e.g. the Monkeyforrest. I recommend spending 3-7 days in Ubud (if you are in Bali for 3 weeks, for example). Ubud is quite centrally located, so from here various tours are possible. When the day tourists leave in the evening, many restaurants and warungs shine in candlelight and torches paired with live music – this "romantic" side of Ubud you experience only in the evening.
What do I have to consider for overnight stays?
Ubud is fully developed for tourism, so there are a variety of hotels in different price ranges. In parallel, there are AirBnBs and various homestays.
Price-wise, accommodations start from about 20€ – open end. Own
Experience 2017-2018:
Hotel: 3 pools, breakfast, air conditioning – all top clean – 50€ / room (shuttle 5 minutes to the center) – view of rice field.
Best Western Hotel – near the center (5 minutes walk), breakfast included, everything very neat 80€ / room.
Info / Weblinks for further reading
Conclusion
Ubud is an absolutely worth seeing city on the dreamlike island of Bali. Those who take a week here will meet friendly people, enjoy delicious food and extended massages, learn about new cultures and be impressed by nature. Whether traveling alone or with an entourage – in Ubud there is both hustle and bustle and relaxation as well as culture or nature.